Yoona's Tears â??I'm sorry to my group members…â? Fans Deeply Moved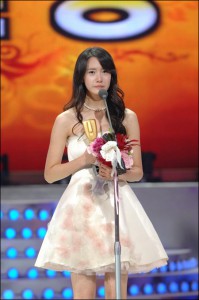 SNSD popular member Yoona's tears touched their fans' heart.
Yoona, who raised her popularity not as a singer but as an actress in the hit daily drama â??You are my Destinyâ?, winning the newcomer acting award in the process, was seen crying because she couldn't apologize properly to her fellow members.
â??While we were preparing for our comeback, I spent my time pursuing my acting career by myself. During this period I always thought about my group members. But during the award ceremony I felt so nervous that I didn't mentioned them in my acceptance speech. I apologize from the bottom of my heart,â? she said, yesterday 13th on MBC FM4U viewable radio .
â??I realized my mistake when I met my group members after the broadcasting. I was afraid they wouldn't know my feelings so that night I sent a message to them, but not everybody replied. After that I couldn't find the right time to bring this topic again,â? she said, opening her heart and tearing up.
That day SNSD fans left countless encouraging messages for her in the bulletin board after seeing that, in spite of her strong appearance, she has a fragile heart.
In addition, SNSD, who has been absent from the music scene for 9 months, have shown their tremendous popularity as their title song from their new mini-album, â??Geeâ?, reached 1st place in the Mnet chart in only two days.
Dailian News,
guest reporter Na Eunkyong
credits: cph@soshified forums
source: http://www.dailian.co.kr/news/n_view.html?…ode&keys=75