So Nyuh Shi Dae, 'Gee' Released On The 5th Before Comeback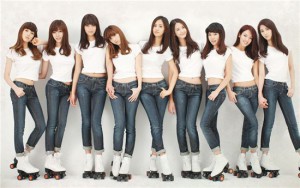 So Nyuh Shi Dae will release their first mini album 'Gee' on the coming 7th and will be active.
So Nyuh Shi Dae's comeback is already becoming a hot issue and is drawing more anticipation as their teaser poster and video were released a few days ago.
Their title song 'Gee' tells the story of a girl who has fallen in love and doesn't know what to do in a fast dance song, and So Nyuh Shi Dae's cute attractiveness can be felt through it. The repeating of the term 'Gee' and its unique lyrics, with the addicting melody of its chorus, will be released on the 5th.
Not only that, but a fun, punk-rock style song, 'Heem Nae!', where you can feel the girls' great energy, is actually 'Haptic Motion,' which was shown though their 'Haptic' CF, except that it was recreated with new lyrics.
Also, 'Let's talk about LOVE' sends a message of hope and courage to couples having hard times, and So Nyuh Shi Dae's members' crystal-clear voices can be heard.
Besides these, there's also 'Dear Mom,' a pop ballad song of beautiful lyrics, which holds a daughter's heart about her mother, and 'Destiny,' a song with a strong beat and a powerful chorus, and more, in a total of five songs in this new album.
Especially, the girls' 44-page mini album jacket shows So Nyuh Shi Dae's members' innocent and girly images.
On the other hand, So Nyuh Shi Dae will be having their comeback stages at KBS 'Music Bank' on the 9th, MBC 'Music Core' on the 10th, SBS 'Inkigayo' on the 11th, etc.
ⓒ Stoo.com
Translations credits to Daisy Kim @ Soshified.com
http://kr.news.yahoo.com/service/news/shel…mp;newssetid=83