[05.01.09] SNSD Comeback Has Made First Place Within 1 Day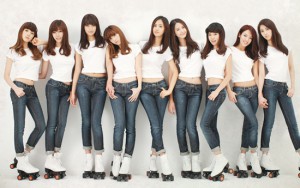 It has not even been one day since SNSD has made their comeback, but they have already taken control over the music world.
On the 5th, SNSD released their title track "Gee" from their first mini album to online music sites. As soon as the song "Gee" was released, it immediately went to number one on the real time charts for each of the music sites. They have not been active in 8 months since concluding their group activities last April, and their overwhelming power was incredible.
Their control was not limited only to music charts. SNSD related queries immediately went to number 1 and 2 spots on popular portal sites. Towards the afternoon, although their positions dropped a little, you could still sense SNSD's popularity since it was during the busiest time of the day and they still occupied high spots on the charts.
On the 7th, SNSD's album "Gee" will be released offline, in music stores. The teaser posters and teaser videos have already been released to immense popularity as the interest and anticipation for their comeback increases for SNSD fans and music fans alike.
SNSD will be making their comeback stages at KBS 'Music Bank' on the 9th, MBC 'Music Core' on the 10th, and SBS 'Inkigayo' on the 11th
credits to NewsEn & boxclub@soshified.com/forums