(to view the video, just go to the link at the bottom of the article~)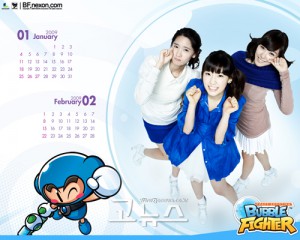 The final test where all Nexon users can participate
all game contents included
Bubble Fighter-So Nyuh Shi Dae wallpaper update
Nexon will carry out the final test of "Crazy shooting Bubble Fighter" from December 23rd to January 4th.
This upcoming test will be the final testing done before the main release of the Bubble fighter service and any Nexon member is able to participate.
The Nexon Bubble Fighter final test will be used to review the items and contents as well as improve upon the game's service, fun, and stability prior to its official release. The many contents and weapons that were present in the 2nd stage testing hae been kept and are included in the final test as well.
Seo DongHyun, who is in charge of game development for Bubble Fighter stated that, "This year, many users have shown interest and love for Bubble Fighter. In order to repay that interest, we have prepared the final test for this upcoming Christmas. [And] after the final test, we will bring up the pace of improvements and development and we hope to implement official service sometime during this winter season."
Meanwhile, on the Bubble Figher-So yuh Shi dae brand site, a So Nyuh Shi Dae wallpaper was released.
These, following the release of the "making of" video, are additional contents such as the girls trapped in bubbles – which have grabbed viewers attention – and also show images of the girls carrying weapons from the game.
Users who visit the Bubble Fighter-So Nyuh Shi Dae brand site can download and use various videos and wallpapers.
credit: aseo @ soshified forums
source: http://sosiz.net/bbs/zboard.php?id=data&am…sc&no=13361