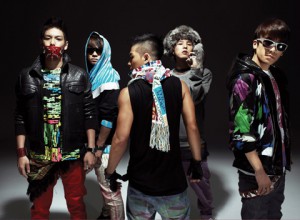 Big Bang has solidified its status as a korean group.
Big Bang has recently rose up to the position of number 1 on Thailand MTV's "Chart of the Year – Top 100" with its mini-album song, Last Farewell. Also, another mini-album track, Day by Day (Haru Haru), which was released last August, claimed the number 11 spot on that list.
Big Bang's popularity in Thailand does not stop there. Taeyang's solo title track "Look Only at Me" (Na Man Barabwa) is also on that same list at number 29, making the group's thorough popularity tangible.
The Thailand MTV's international chart is comprised of weekly showtimes and viewer/listener requests and is announced every monday and is a list where one can easily pick out hit songs. This compiled list is the summation of the weekly charts and has the songs ranked for the year.
Outside of Big Bang, So Nyuh Shi Dae's "Kissing You" was number 4 putting that song within the top ten, while SHINee's "Replay" and Dong Bang Shin Ki's "Purple Line" took 18th and 20th respectively – these rankings showing the level of popularity that Korean singers have in that country. SS501's "Deja Vu" was also at 30th and Super Junior's "Marry You" was listed at 37th, showing the surge in popularity for Korean idol groups.
One music industry affiliate, while commenting on Korean idol groups' popularity in Thailand, stated that, "Korean cultural awareness is blooming in Thailand, and Korean dramas are showing almost simultaneously in the Korea and Thailand. This shows that the people of Thailand are showing a high level of interest in Korean culture, and Korean idol singers are a part of that movement."
In this chart, 2nd place went to the US's Pussy Cat Doll's "When I Grow Up", 3rd was the UK's R&B sensation Duffy's "Mercy". "Touch My Body" by Mariah Carey and "Love in this Club" by Usher took 6th and 8th respectively.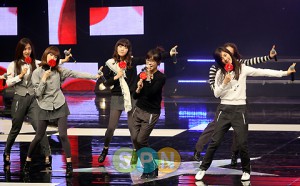 credit: aseo @ soshified forums
source: http://sosiz.net/bbs/zboard.php?id=data&am…sc&no=13290