[16.12.08] SNSD's Grades as an Editors? A-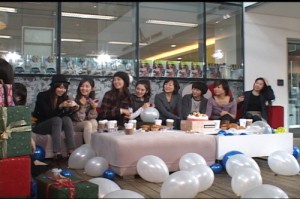 After airing since October, MNet's "Factory Girl" will be showing its last episode on the 17th of December.
On this episode, viewers will be able to hear the true feelings of SNSD as they experienced life as editors for the past five months.
SNSD said "At first, we were afraid that they would try to avoid giving us hard assignments." and "It was a meaningful experience and more than anything, it was so fascinating to see the results of our hard works in the monthly issues."
They also shared their shocking memories from the show. SNSD said "When the managing editor visited our apartment, you could see pictures of us posted on the refrigerator" adding that "Those pictures shown on the refrigerator were such silly pictures but they all came out on the broadcast", as they laughed shyly.
Among them, Sooyoung had an especially touching experience. She said ""Since being an editor was something that I really wanted to try, it was that much more of a special experience for me. And so I decided to work even harder and after watching the first episode, I've done alot of reflection" and "But I've worked hard through the support and worries of my sunbaenims and I think I've come away with a good result after putting in alot of hard efforts."
She cried as she thought of the short filming time that they had for the show.
The managing editor Nam Yoonhee said that the grade for SNSD as they were editors for the last five months was an A-, saying "It was good to see them trying and doing their best," and "I hope that with this experience, SNSD will come out as best dressers from now on."
The last episode will air on the 17th on MNet at 6PM
credits to NewsEn and boxclub@soshified.com/forums