[16.12.08] YAMD Ratings Pass 41.5%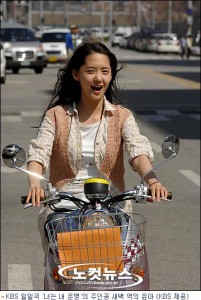 KBS 1TV's daily drama "You Are My Destiny" has passed the 40% ratings mark.
According to AGB Nielson Media Research, on the December 15th, YAMD reached a national viewer rating of 41.5%. This was 9.1% higher than last week's highest rating of 32.4%.
For the last five months, YAMD has been under high scrutiny to see if it could pass the highest ratings of "Miuna Gouna" which had reached 44.4%. However, with the story and conflicts shown in its 159th episode, it was able to bring together an immense audience, and was able to release alot of the pressure put upon the production crew.
Viewer Lim Youngsoo said "There was never such an invigorating episode as there was today." and another viewer Lim Kwonchul said "YAMD can try to pass the 50% national viewer rating".
Conversely, the other daily drama that is aired at the same time, MBC's "I Love You Don't Cry", had a rating of 5.8%.
credits to CBS.co.kr and boxclub@soshified.com/forums