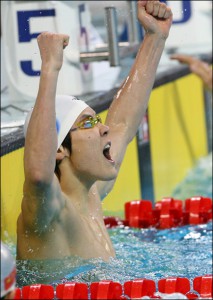 For the first time in Korea's Olympic history, 'Marine Boy' Park Tae Hwan won a Swimming Gold Medal and the 2nd Gold Medal for the Korea Team.
In the finals of the Mens Freestyle 400m held on the Olympics Swimming Centre on the 10th, Park Tae Hwan won Gold Medal with a record of 3minutes 41seconds 86 beating China's Zhang Lin and USA's Jensen.
Eventhough Park Tae Hwan was placed in the 3rd lane because he fell behind Zhang Lin in the qualifying match, Park Tae Hwan still unfolded an outstanding race. Park Tae Hwan, who was holding up on 4th place in the 50m turning point, swam up to 2nd place in the 100m point and started building up his speed. Even though Grant Hackett was leading 1st place in the 100m mark, Park Tae Hwan swam harder and succeeded in passing Hackett, and lead 1st place in the 150m turning mark.
Afterwards, Park Tae Hwan never gave his lead position to Hackett again and rather distanced himself more and more from the other swimmers. In the 350m turning mark, Hackett fell behind to 5th place and Zhang Lin came 2nd with his final spurt towards in the end.
Park Tae Hwan maintained his own pace, and despite Zhang Lin's scary spurt for the last remaining 10m, Park Tae Hwan came with a victory with a difference of 0.58seconds. Afterwards the song, SNSD – Girls' Generation, which Park Tae Hwan enjoys listening to came on in the Swimming Pool as Korea Celebrated their first ever gold medal in a swim event.
Credits: dailian.co.kr & ak6c@soshified.com/forums (translations)
Congrats to PTH and hurray for him by doubling our joy by playing SNSD for us afterwards