KBS daily drama â??You Are My Destinyâ?? finally reached 30% viewer ratings.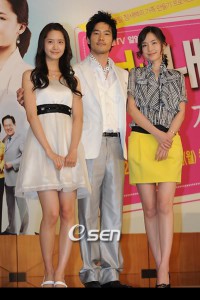 According AGB Neilson Media Research team, KBS 1TV â??You Are My Destinyâ?? reached 31.6% viewer ratings. Since the first episode on May 5th, the viewer ratings stayed around 20% and couldnâ??t each 30% program ratings, however, within 3 months it conquered.
KBS daily dramas are popular to the viewers. Although 20% viewer ratings are high, itâ??s hard to say the drama is a â??successâ?? due to that reason. Also, previous drama â??Likable or Notâ?? succeeded in getting 40% viewer ratings, so that was another burden to â??You Are My Destinyâ??.
On the 5thâ??s broadcast, Hose (Park Jaejung) said â??I donâ??t want hide my feelings anymoreâ? and demanded to break the engagement to Soobin (Kong Hyunjoo). Youngsook (Jung Aeri) met Minjeong (Yang Keumsung) and delivered the message â??Saebyuk (Yoona) is like a daughter to me. Donâ??t treat her like that.â? warning her.
Recently, Hose, Soobin, Yoona, Taepoongâ??s love line is getting more intense, bringing excitement to the viewers.
——————————-
credits: Osen
translated by: minjeong@soshified.com