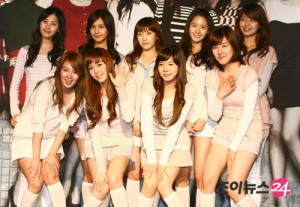 Popular group SNSD is gaining attention by participating in the OST of the SBS drama, 'Working Mom.'
On the 6th and 7th of this month, SNSD's semi-trot song, "Ggok," was revealed in some of the scenes of the drama, catching the attention of viewers.
The song, 'Ggok,' where Yuri and SooYoung sang and Sunny narrated in, was a tango song that was sung in trot-style.
This song was written by Go SeungJin, who also wrote the popular song, 'TongJeung,' which was included in the MBC drama 'Hit.'
According to the drama's music director, "This drama's OST has a unique beat and style that can show off SNSD's different colors, and at the same time, SNSD can appeal to more viewers through this genre of trot music."
In the OST of the drama 'Working Mom,' SM Entertainment's musicians and singers collaborated together to make 20 songs, including the two songs that SNSD sang. The 'Walking Mom' OST will be released in mid-August.
Translated by: Daisy Kim
Credits to: Joy News 24