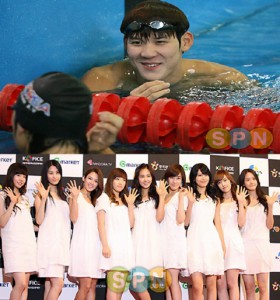 'Marine Boy' Park Tae Hwan celebrated first korean Olympic gold medal with SNSD's song "Girls' Generation."
Park Tae Hwan won the gold medal during the 400m mens freestyle finals with a time of 3 minutes, 41.86 seconds.
There was something that caught the attention of all viewers that were celebrating Park Tae Hwan's victory. SNSD's song "Girls' Generation," which is listed under their 1st album, was played on the speakers while Park Tae Hwan was walking back towards the locker rooms.
It is well known that when a winner is official for a category, the song that he/she enjoys will be played in the stadium. Park Tae Hwan and SNSD became friends because of TV shows that they did together.
Also, on the 9th of August, when Choi Min Ho beat Austria's Ludwig Paischer in 2 minutes and 13 seconds in 60kg Judo, Lee Hyori's "10 Minutes" came out.
SM Entertainment employee said, "SNSD members were watching Park Tae Hwan's final match and were cheering until their throats hurt" and "The members are happy with the news of the gold medal."
As for "Girls' Generation" playing in the stadium, the SM employee included, "The members are also very surprised. They were wondering why their song was being played after the event."
NOTE: the original article says that Girls' Generation is part of their first single album ITNW. This is wrong so i fixed it in my translations.
Original: http://spn.edaily.co.kr/entertain/newsRead…mp;curtype=read
Translations: FanyLove@soshified.com/forums
EDIT: Im getting reports that other songs were played during non-final matches. I believe the songs that come out in these situations are just random tracks from a CD that includes hit asian songs. men's archery, and b4 the PTH race are cases.
Additionally, i heard Ivy's Sonata song during men's individual archery event as well. Kpop is popular in China. I am confident that other kpop songs will play during olympics so keep ur ears open xD