October will be Idol Month!
DBSK(TVXQ), SNSD, and Big Bang all planning big comebacks.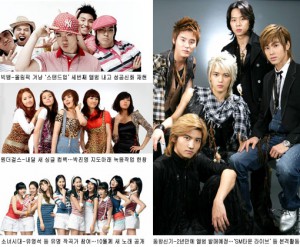 You could say the first half of this year's music scene was dominated by the likes of Kim DongRyul, Brown Eyes, and Seo Taeji for the males and Lee Hyori, Um Junghwa, and Seo Inyoung for the females. However, the focus of the latter half will definitely be the fierce battle between the younger idol groups.
Idol groups such as DBSK(TVXQ), SS501, SNSD, Big Bang, SHINee, and Wonder Girls have all made or are planning to make big comebacks to the scene in the latter half of this year. And in October, we will get to witness a rare scene when all these groups will be active and competing for the top.
Wonder Girls, who returned with their third project single 'So Hot,' heated things up in the music scene. And without any promotional activity of a second song, the girls will return in early September with a new single. Under the direction of JYP, who recently made a discrete return to Korea, the girls finished the recording process of the new single that will portray a different image from 'So Hot.'
And Wonder Girls' rivals, Girls' Generation, are also planning a return in the latter of the year. The girls who were busy with promotional activities until January, have been fairly inactive in recent months with the exception of a few individual activities. But in October, they plan to return to the stage with a new album featuring songs by composer Yu Youngsuk and many others.
DBSK(TVXQ) and SS501 who have both been active in Japan's music scene, are also planning to return to Korea with new albums later this year. For DBSK(TVXQ), this will be their first album in Korea since 2006's 'Oh Jung Bahn Hab.' On the 15th of August, they will take the stage at 'SM Town Live 08.'
Though busy with activities overseas, SS501 have kept in touch with Korea with 'Deja Vu' and special album 'Find.' In October, however, they will make their actual comeback with a new album.
Big Bang, whose members have been busy with individual activies such as musical and TV actors and music producer, will be making their comeback before the others. On August 8th, they will release their third album 'Stand Up' with hopes of bringing us more hits like "Lies" and "Last Farewell."
SHINee, who have received much love with 'Noona Is Beautiful,' will return with a new song off their album. And as soon as the promotional activities of the second song are done, they will get started on their full length which they hope to release by the end of this year.
Along with the rest, JYP's new group 2AM/2PM, and Kara featuring a new member also plan on a very active latter half of the year.
Source Credit: Sosiz.net
Translation Credit: wondersoshi@soshified.com/forums