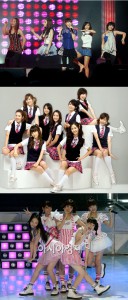 What influences do female groups have on the Korean music industry?
They expanded market to include men as well, for the majority of the market in the past used to be females.
Thanks to the competitive battles between SES and FinKL, female groups began to gain recognition, and the mature looks of Baby VOX and Jewelry diversified the fan level. Of course, Jewelry is much more popular at the moment, but just 3 or 4 years ago, the sexy competitions between these 2 groups exponentially increased the number of fans of female groups.
Recently, while the competition between the so-called "2nd Generation" groups, SNSD and the Wonder Girls, have cooled off a bit, KARA took advantage of the short break and came back with a bright and bubbly concept. And there comes the smell of a subtle change in the girl groups' competition in the air.
KARA, who came back last month, has been gaining quite a bit of popularity, particularly online. Although their comeback and performance on a music program has received many harsh criticisms, the girls were content because even though they were mostly cricitisms, it shows that they attract that much attention. In addition, their new bubbly concept has been deceivingly popular, for KARA has been continuously performing on music shows, and KARA-related search words have been showing up near the top in the most-searched lists on various portal sites.
And what helped even more was the fact that both SNSD and Wonder Girls haven't been all that active when KARA came back.
…
The spokesmen for DSP Entertainment, KARA's record label company, said they plan on actively promoting their bright and bubbly image to battle with SNSD's innocence and Wonder Girls' "sexiness"
This kind of strategy should be a good way to try and attract more male fans of the ages from 20 to 40, who became a big market for female groups recently. It's because males in their 20's have grown up in the late 90's watching the rise of idol groups, so they are familiar with the music and dance steps of these groups. Also, male fans in their 30's and 40's are generally very curious about the entertainment industry and are very nostalgic about their past as well.
In fact, it is the same logic as how the Wonder Girls, who came out with an old school look of the 80's in their first album, have drawn the support of many male fans with the cute sexiness concept in their 2nd album; it's also the same logic as how SNSD promotes their innocent concept, which helped the early idol groups to grow in their early stages.
…
Hence, it seems like it will be one heck of a competition between SNSD, the Wonder Girls, and KARA.
NOTE: The article seemed to focus on KARA bit too much, in my opinion, so I cut out a couple of parts as I saw unnecessary.
Credits to: Asia Economy & stoo.com
Translations by: Seannn@soshified.com