SNSD's Families Gather Interest
"Ulzzang runs in the family"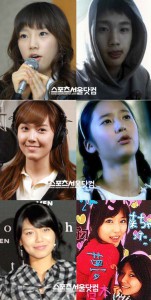 Girl group SNSD's pretty and handsome families are garnering much attention. Although they are not celebrities, they are gathering as much attention as if they were.
Leader Taeyeon has her "Boonguh Bbang oppa" Kim Jiwoong. Taeyeon's brother looks so similar to her that any one with eyes can see that they are related as brother and sister. Moreover, since Kim Jiwoong has the same cute facial expressions as Taeyeon, he has even gained the nickname as the "Boy Taeyeon."
Jessica also has a pretty girl dongseng. Jessica's younger sibling Krystal has the beauty that makes many celebrities very popular. Despite being only 15 years old, she has had the attention of many netizens. Last year, she was featured in a CF for an English class and she is currently in the same company as her older sister Jessica as she prepares to debut.
Additionally, Sooyoung also has an older sister with the beautiful looks of a celebrity. Sooyoung's older sister Choi Soojin has long straight black hair with big eyes that show off her natural beauty. Even as a normal person, she has alot of male fans.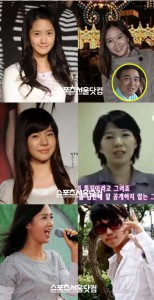 "Flower Deer" Yoona also has a beautiful sister. Yoona's sister has the same large eyes as well as defined chin line as Yoona and is a definite natural beauty. Although her overall beauty similar to Yoona, compared to the cute feeling that one gets from Yoona, there is a definite mature femininity to her older sister. Also, Yoona recently revealed her father in a broadcast that showed that the beauty runs in the family.
Sunny, another SNSD member, also has a beautiful sister. Sunny's sister Lee Jinkyu works in SM Entertainment. Moreover, Lee Jinkyu also worked as the manager for the group Sugar and has appeared in a few television shows with them. Although there is a large age difference between her and the twenty year old Sunny, the overall beauty and feeling is very similiar amongst the two.
Yuri who is a vocalist for SNSD also has a handsome brother. Yuri's brother is not a celebrity, but he has alot of female fans, due to his handsome eyes, ear, mouth and nose as well as for his fashionable style. Although he is a boy, he shares the same tall height and beauty as his sister Yuri.
Credits to SportsSeoul and boxclub @ www.soshified.com/forums