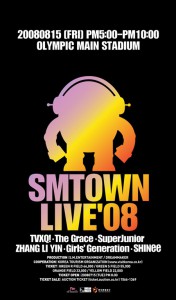 Going to four cities the "SM Town Live 2008" is a large-scale music festival that will last 5 hours. The four cities are Korea (Seoul), China (Beijing & Shanghai), Thailand (Bangkok).
The first show is at Jamsil Stadium, Seoul, it is on from 5:00 pm to 10:00 pm.
The auction for the tickets will on July 15th at 8:00 pm at ticket.auction.co.kr.
Credit: dnbn & Ringy@Soompi & Lishathestain
Damn. Looks like the rumors are true .. sigh times like this I wish the girls weren't in SM. Um why? There's been A LOT of pre-anti plannings to hurt the girls in China if they come, and same for Thailand, because of a certain fangirls of certain groups. Anyways, just a heads up, I guess SNSD fans from China & Thailand need to step up their games.