Yoona, who broadened the area of activity from 'SNSD' to an actress, her kissing scene is on the topic.
Kim Soobin (Kong Hyunjoo) assigned Jang Saebyuk (Yoona) a backbreaking work load as an intern, so she was done work at 12. Taepoong (Lee Jihoon) was waiting for her at the front door, and drove her home. The drama ended when Taepoong was on the verge to kiss Saebyuk who was sleeping. This episode was aired on the 9th.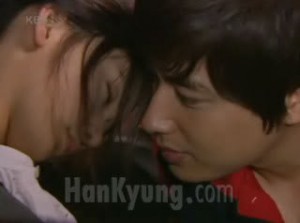 Fans who watched this episode wrote "If Yoona kisses him, I'll be sad". "Please take out the kiss scene" on You Are My Destiny's official site and were revolting to Yoona's kiss scene.
—————————————-
credits: newsinfo@hankyung.com
translated by: minjeong@soshified