SNSD.. Goes to School!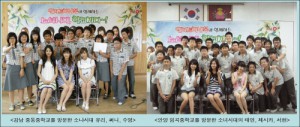 SNSD, who is currently the spokesperson for the school uniform brand "Elite Uniforms", visited Kangnam Middle School and Anyang Middle School on the 11th and 12th and presented them with a thousand dollars worth of school uniforms, creating an event called "SNSD.. Goes to School".
The "SNSD.. Goes to School" event has been promoted on the Elite Uniform homepage since April and May and the participating schools were selected through a lottery.
On the 11th, SNSD's Yuri, Sunny and Sooyoung visited Kangnam Middle School and on the 12th, Taeyeon, Jessica and Seohyun visited Anyang Middle School. In particular, the "Love's Uniform" ceremony involved a SNSD fan signing and a special photoshoot that was an even more special present to the students.
Students at the Kangnam Middle School knew of SNSD's visit in advance and waited at the front of the school for them and greeted their arrival with loud applause and cheers and spent a joyful time with SNSD.
Likewise, at the Anyang Middle School, male and female students alike greeted SNSD with enthusiasm and despite the humid heat, participated in the event with a joyful heart.
SNSD members said of the event "Although it was a short time, it was all worth it for the fun time that we were able to spend with them. I hope that the students can all study hard despite this hot weather and us SNSD members are all cheering and supporting you on".
The Elite Uniforms marketing chief Park Jiyoung said on the 16th that "It was a meaningful time for SNSD and the students during the "SNSD.. Goes to School" event and the "Love's Uniform" event" and "Elite Uniforms will continue to think of diverse events like these to bring more joy to the lives of the students"
Meanwhile, SNSD, who became Elite Uniform's spokesperson a month after their debut, have had a string of hits starting from "Into the New World" to "Girls' Generation" and "Kissing You", with members actively participating in acting and radio DJ.
Credits to JoyNews and boxclub @ www.soshified.com/forums