Jessica Featured on 8eight's Song "I Love You"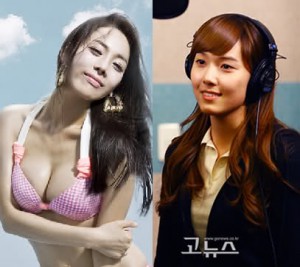 8eight, the trio group that won "Show Survivor" will release a repackage of their 2nd album for the summer that features Jessica of SNSD.
Currently quickly rising in the mobile download charts, 8eight's "I Love You" summer version features Jessica's vocals and due to the similarity of her voice and 8eight member Johee's voice, it had been generating a great amount of interest from fans. Netizens are enthusiastically watching the "I Love You" music video trying to find Jessica's voice. Johee, who was there when SNSD Jessica recorded the song, gave her vocal abilities high regards, saying "Even when I listen to the song, our voices sound similar. From her gifted vocal tone to her stable vocal pronunciation, it really seems similar."
"I Love You" has a house rhythm that matches well with a familiar melody. Matching well with the current trend towards electronica, Jessica's featuring provides an even more fresh and bright upgrade to the song.
To match with its summer repackage, 8eight has visually transformed as well. Johee shows off her body in a bikini. Currently popular on the internet is Johee's new concept with her bikini body.
On June 20th, 8eight's repackaged 2nd album will come out with the "I Love You" track featuring SNSD's Jessica. Along with a rock version of their hit single from their first album "Forget Love and Sing", there will be a total of four songs.

Credits to GoNews and boxclub @ www.soshified.com/forums