"Unstoppable Marriage" end with 4.7% program rating.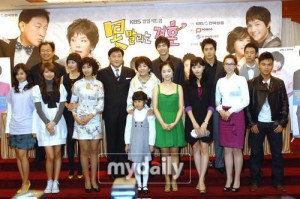 KBS 2TV's daily drama 'Unstoppable Marriage' quietly ends with less than 5% program rating.
Unfortunately, 'Unstoppable Marriage' haven't reached 5% program rating from the beginning even to the last episode.
'Unstoppable Marriage' was a drama that featured Kim Soo-Me, Kim Moo-Saeng, Suh Do-Young, idol group SNSD's Yuri and Sooyoung, and FT Island's Lee Jae-Jin, and etc. It was a drama that was promoting the movie called 'Unstoppable Marriage' as the same people were casted for both the drama and the movie. (Kim Soo-me, and Kim Moo-Saeng)
However, the program rating did not increase because of the newbie's awkward acting skills. Despite the effort from the producers, (tried changing the time, had many parodies from different entertainment shows, and even featured the popular group SNSD's Sooyoung and Yuri, FT Island's Jae-Jin), the program rating didn't increase bringing everyone disappointment.
source: http://www.mydaily.co.kr/news/read.html?ne…1114&ext=na
Translated by: Minjeong@soshified
————————————–
This is te first article that i translated.. i hope i did ok.. wow, i didn't know translating was this difficult.. Excellent job for those who have been translating the article all along!! but it's sad that 'Unstoppable Marriage' didn't get that much attention