Nell: "A Concert with SNSD? We're afraid to get hit with stones."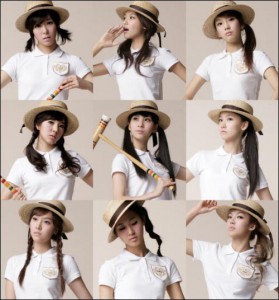 Music group Nell expressed their love for SNSD in KBS2 TV's "Yoon Do Hyun Love Letter" aired on the 30th. Nell said the singers that they like are SNSD.
Yoon Do Hyun asked, "It is rumored that Nell members are usually very quiet, but they would become noisy only when the discussion about SNSD is brought up."
Nell answered, "Let's call that an oasis in the desert! I think they are all very pretty especially when all nine members are together." It was very difficult for Nell to adapt to different activities after a long time, but they have gained their strength after seeing SNSD.
Yoon Do Hyun also asked, "A lot of people would feel that the two groups would not match well together. But what if you had a concert with SNSD?" Nell members replied hesitantly, "If it's really going to be like that, I guess SNSD's male fans would hit us with stones." However, Yoon Do Hyun asked once more, "Would you even consider doing it even if it's the case?" Nell members feebly answered, "Yes." And this brought laughter among the audience.
Yoon Do Hyun suggested, "A lot of musicians watch our show. We don't know if SNSD would be able to watch this now though. Please tell the things you want to say to SNSD through this show." Lead vocalist Kim Jongwan said, "I'm the spokesman. The other members are hiding themselves." Then he expressed his thoughts about SNSD and their manager.
Kim Jongwan expressed his love for SNSD and said, "SNSD members are currently doing individual activities. But it feels like SNSD is the most powerful when all the members are seen together." "Recent activities have always brought us together. It would be nice if they would have a new car. Nine people in one car looks too crowdy."
Chinese article: snsdchina
English translation: Tanya
English edit: tangerine_kisses@soshified.
I feel lots of Soshi lovin'