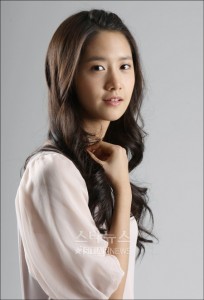 Yoona has expressed her ideas about strenghts and weaknesses about her being singer and actress in Star News's latest interview with her.
"It saddens me to be seen as though there are inherent weaknesses in being singer and actress," she said.
"The fact is, I get more attention for being a singer and an actress, yet I regret being underestimated by the stereotypes surrounding it.
"I only try my hardest. If I only did acting, perhaps I would've gotten different reviews. I want to strive to be acknowledged as an actress," she said.
"So Nyeo (소녀) is literally the first person pronoun which means unmarried woman humbly referring to themselves. If I don't get married, I will be active being part of SNSD," she said, smiling.
Yoona, who had received training in acting as a trainee for two years, gets positive reviews from her first major role in "너는 내 운명"
Credit: soshi_you_are_my_destiny @ soshified
Source: http://star.moneytoday.co.kr/view/stview.p…1&outlink=1
Alternative Source: http://news.naver.com/main/read.nhn?mode=L…;aid=0001947199