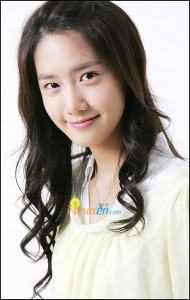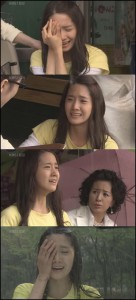 What would SNSD Yoona's midterm acting grade be?
Yoona is the female lead in the KBS 1TV daily drama "You Are My Destiny" that started airing in early May.
How has Yoona, who blew up the music charts with SNSD, fared with her acting, three weeks in, which had held alot of anticipation?
The general evaluation would point to a 'success'. She started her acting with the label as a singer, which had held alot of controversy. Moreover, having just debuted less than a year ago, 19 year old Yoona has been well received by audience viewers for her acting.
Many viewers had been skeptical and worried for Yoona's acting, but many of those have faded away as they watch her. Furthermore, those that thought that Yoona received the main lead solely because of the popularity of SNSD also have been changing their minds. For these reasons, Yoona's official acting debut can be seen as a successful start, acknowledged by the audience viewers.
Granted, many have pointed to the 40% ratings that "Miuna Gouna" had compared to the 20% that "You Are My Destiny" is currently holding. However, when "Miuna Gouna" had started, it too had a 20% rating before rising up.
"You Are My Destiny" viewers have commented that "her acting has exceeded my expectations" and "honestly, I had worried that the reputation of KBS daily drama would crumble with a teenage idol star as its main lead but I have changed my mind."
Additionally, "Yoona's motivation and preparations towards acting has been very thorough" and "I am seeing her not as top star SNSD member but as a new respected actress. It's so good to see her working hard".
There is a reason for Yoona to be basking in all of this admiration.
Before Yoona was known as a part of SNSD, she had debuted first in a drama. Last July, on MBC's "9 Innings 2 Outs," Yoona had her first taste at acting. Although it was not a large role, she was still able to show her acting.
Furthermore, during her 6 years as a trainee, she had diligently received acting lessons. SM Entertainment has already a reputation for their training system.
Of course, it is too early to call it a 100% success. KBS 1TV dramas have long set a high standard in the public's eye and it is impossible to completely evaluate Yoona's acting debut on the daily drama.
However, it is truth to say that, 3 weeks into broadcast, Yoona has been walking on the road to success.
CREDITS TO NEWSEN and BOXCLUB @ WWW.SOSHIFIED.COM/FORUMS