PLEASE DO NOT HOTLINK!
DO NOT ADD OR REMOVE CREDITS.
SOURCE: Goodday Sport, PICTURE: Chosun Sports, TRANSLATION: heygingersnap@soshified
Girls' Generation Tiffany "I'm really addicted to Navi's 'I Love You'"
May 8, 2008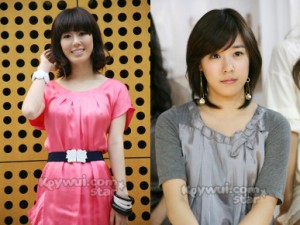 Girls' Generation Tiffany really loves Navi's "I Love You."
Tiffany (age 20), on the 6th's cable music program "SoNyeon SoNyeo GaYo BaekSeo," introduced singer Navi's (age 22) "I Love You" by saying, "This song is really good. Nowadays I'm addicted to this song."
On a future KBS Economy Vitamin recording, Tiffany, along with Navi, appeared as guests. "All the Girls' Generation members really like 'I Love You,'" Tiffany said as she volunteered herself as a fan.
Both of them exchanged discs (CDs) and encouraged each other in friendliness.
The recording of KBS Economy Vitamin with Tiffany and Navi will be broadcasted on May 8.
SOURCE: Goodday Sport, PICTURE: Chosun Sports, TRANSLATION: heygingersnap@soshified
* You can watch Navi's "I Love You" music video here at youtube.