You Are My Destiny 23.4% , Likeable Or Not's Legacy Continues
Original article:
http://www.donga.com…?n=200805070269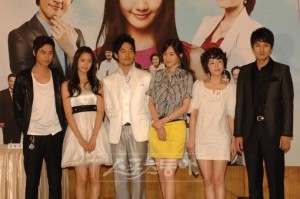 KBS 1TV's 'You Are My Destiny' 23.4% program rating is continuing the legacy of it's former drama 'Likeable or Not'.
According to the program rating by investigation agency TNS Media on the 6th of May, YAMD's 23.4%(nationwide) occupied 2nd place after MBC's 'Yi San' which recorded a 30.9% program rating.
MBC's 'Madam Ah Hyun Dong was next with 21.0%.
——-Omission (due to irrelevance) ———————
In YAMD , Girls Generation's Yoona appears as Sae Byuk who receives a corneal implant who later happens to be adopted as a daughter by the parents of the cornea donor and it is a family drama which draws affection. On the first episode, it showed the subject of organ donation with the fateful meeting of 3 families and from the 2nd episode which aired on the 6th of May , concrete character description and conflict between characters are depicted.
Program rating (06.05.08)
TNS Media Korea : 23.4%
AGB Nielsen Media Research : 25.2%
Sorry for my rough translations. I tried my best ^^
Continue to show lotsa

Credit: Sosiz + Hong Jae-hyun journalist@donga.com + leezhezin@soshified for translation