Will SNSD Yoona Continue KBS Daily Drama Star Legacy?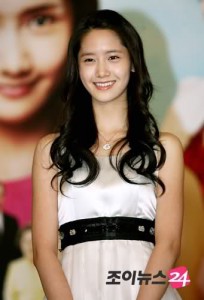 Nine member girl group SNSD member Yoona is gaining the interest of many as the lead in a drama.
This is not simply a singer becoming an actress. By receiving the role of the main female lead in a KBS 1TV daily drama, this achievement is a notable one.
Thus far, KBS 1TV daily dramas have had Kim Ahjoong and Go Joowon in "The Bizaare Bunch", Koo Hyesun in "Pure 19", and Kim Jisuk in "Miuna Gouna". With the determination of these new actors, it seems as if their roles in these shows led to the birth of their star status today.
Before debuting with SNSD, it's been revealed recently that Yoona had been diligently studying in pronuncation, narration and acting classes since 2002. Because of this, since the formation of SNSD, Yoona had been poised to show her potential as a multi-entertainer.
Last year, she debuted as an actress on the MBC drama "9 Ends 2 Outs". Most recently, she had a cameo role in the MBC weekend drama "Beautiful Park JungGeum," receiving flattery from veteran actress Bae Jongwook, who said "She has an immense focus while acting and her talent for it is good", further showing her disposition for acting.
And now she is formally debuting as an actress on KBS 1TV's daily drama.
Starting from the 5th, Yoona will appear on the KBS 1TV daily drama "You Are My Destiny" as the female lead Jang Saebyuk, who overcomes her childhood as a blind girl to live a brave and cheerful life.
Yoona plans to show a new side of her as the brave Jang Saebyuk, who loses her eyesight in an accident but through a cornea transplant surgery from a girl her age who passes away, she is able to have a new life.
In particular, Yoona has to portray her character's emotions as a person who has overcome great challenges in her life.
Last month on the 30th, at the press conference for the show, Yoona said of her character "Saebyuk is a cute character that lives her life with strength. She's a character that I've always wanted to play," showing her inner connection to her role.
Moreover, she adds "Although its hard to be a singer and an actress at the same time, since SNSD has ended our first album promotions, I can focus on acting right now" and "I will not lose this opportunity."
New actress Yoona, with her new role on KBS 1TV's daily drama, is sure to attract popularity from fans of all ages and we anticipate to see if she can catapult from this role into a household name known everywhere.
credits to JoyNews and boxclub @ www.soshified.com/forums