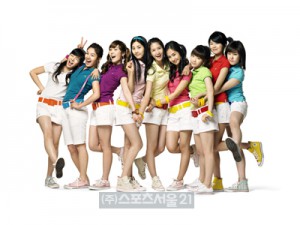 9 member Girl Group SNSD is leading an uprising in the advertising world.
Each member full of talents and cheery charms, SNSD has fans of all ages, from children to adolescents to adults. Following ads for the PMP "Viliv", "Goobne Chicken" and "Sunkist Sweetade", SNSD has been chosen as models for the Ellesse sports brand. For "Viliv", it was Bae Yongjoon and for "Sunkist Sweetade" it was Super Junior that SNSD was able to match their chemistry with.
On the 23rd of last month, SNSD shot the magazine ads for Ellesse. Ellesse says "SNSD's bright and fresh image matched well with Ellesse's luxury sports lifestyle" and "With SNSD, we plan on reaching the teenage audience for Ellesse's new image." 'Ninebow Friends" was the concept that the shoot used as the nine members of SNSD each had their own color and theme, showing their nine dreams and friendship stories.

credits to SportsSeoul and boxclub @ www.soshified.com/forums