PLEASE DO NOT HOTLINK!
DO NOT ADD OR REMOVE CREDITS.
SOURCE: Review Star, TRANSLATION: heygingersnap@soshified
Girls' Generation will hold their first large fan meeting since their debut
May 8, 2008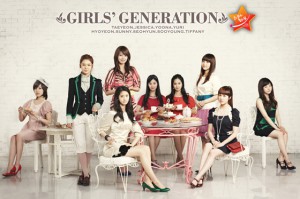 Girls' Generation, the leader of girls fever, will hold their first large fan meeting since their debut.
From their debut song "The World We Meet Again" (ITNW) followed by "Girls' Generation," "Kissing You," and "Baby Baby," all have been continuous hits from best idol group Girls' Generation. This Saturday the 10th at 5pm at Sejong University at Atlantic Hall, with Star Pictorial and UFO, they will meet with fans, starting with 1000.
Starting from March, Girls' Generation's "Heartbeat Date," "Popular and Best Schoolgirls," and "Have Fun at Our House" made up Star Pictorial concepts received love, so in return they will hold their first fan meeting.
Since it's the first time Girls' Generation will meet with many fans at this large meeting, there will be more significant seating (I'm not sure what this means?… O_O).
SOURCE: Review Star, TRANSLATION: heygingersnap@soshified