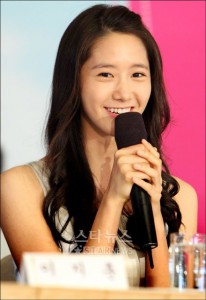 KBS1TV'S "You Are My Destiny", girl group member Im Yoona's first main drama as an actress, is showing a chance to be a hit by exceeding 20% ratings with it's first episode.
According to TNS Media's TV ratings study, "You Are My Destiny" recieved 23.4% ratings for the first episode.
On this episode, Nayoung, a doctor, dies suddenly and gives different talents to seven different people. Yoona, who played the main character, SaeByuk, showed natural acting as her character got to see inside a doctor's world.
Although SoNyuhShiDae's Yoona has been featured on "9 ends, 2 outs", "Unstoppable Marriage", and "The Unique Park Jung Geum", but this is her first appearance as a main character.
On the board for the show, fans of Yoona were very excited for her change into an actress. Netizens commented that "Yoona's acting is pretty good", and "For her first main character, she is good".
Broadcasted after "Likeable or Not", which got ratings of 40%, You are My Destiny involves a family who's daughter has died who adopts SaeByuk and is a family story overall.
—
Sorry for the very rough translations x__x.
I'm glad it's doing well =D.
Credits: sosiz & xflyjiyong94@Honey for translating.