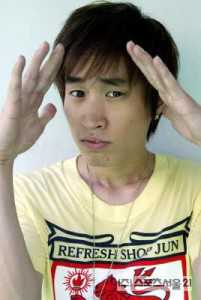 Returning with their 5th album, Epik High's leader Tablo said that the celebrity he likes the most is SNSD's Taeyeon.
Tablo is currently the DJ for his MBC FM4U's "Tablo's Dreaming Radio" and when his guests Sweet Sorrow asked him "Who is the female celebrity you like the most", he answered "Taeyeon". On the show's corner called "Good Night Pops", Sweet Sorrow performed the pop song "Can't take my eyes off of you" and thus, to relay the message of this song, they asked Tablo that question, which he answered with Taeyeon. After this, Sweet Sorrow joked "Imagine if Taeyeon was wearing a swimming suit. Could you take your eyes off of her?" Tablo immediately answered "Don't even imagine that. Really, don't do that" with a serious tone, showing that he truly is a strong fan of Taeyeon.
Tablo has always been a fan of SNSD, and especially a fan of Taeyeon. Last January 31st at the Seoul Music Awards, Taeyeon appeared alongside Epik High for their "Love Love Love" performance, receiving alot of applause from fans.
credits to SportsSeoul and boxclub@soshified