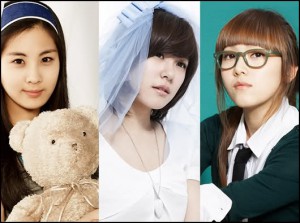 Girl group SNSD's Jessica, Tiffany, and Seohyun's soft ballad "Bad Oppa" has garnered much popularity after being announced.
They revealed "Bad Oppa" online on the 7th. Jessica, Tiffany and Seohyun are guest singers for the new one-man producing group Roommate's first digital single.
As its title suggests, "Bad Oppa" shows the pure hearts of twenty year old girls, with honest lyrics and attention-grabbing melody, with a grand string section and Jessica, Tiffany and Seohyun's appealing vocals that is sure to have a warm reception among music fans.
Jessica, Tiffany and Seohyun said through their company on the 7th that "We're happy to be newly greeting you with a ballad song. I hope that "Bad Oppa" receives as much love as the work we put into recording it."
Additionally, SNSD, who is currently promoting "Baby Baby", will reveal the third part of their "After School 5:00PM" pictorial "Come play at our house" on the 9th.
credits to mtstarnews and boxclub @ soshified