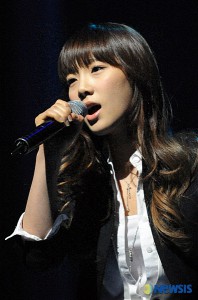 Download MF: http://www.mediafire.com/?ihgmjdcibb5
SNSD displayed their tough teamwork yesterday at M!Countdown. On M!Countdown that was aired on the
13th, SNSD's Taeyeon sang the song 'IF' that has been gaining a lot of popularity and interest lately.
What caught everyone's attention was while Taeyeon was singing, all of SNSD came out
to cheer for Taeyeon on the side.
Especially when recording was stopped due to Taeyeon's mistake, all the members cheered on hard for
Taeyeon as if it was their own situation.
In the last part of the video, the "Fighting" you hear is from the SNSD members that stood by next to the
news reporter. You can't help but agree that it has changed to Girl's Generation today when you see
their tough teamwork.
———– Credits: Sports Chosun & ak6c@soshified (translations)
———– Please credit if taken out
I didn't know Taeyeon made a mistake while singing 'IF'. I'm not entirely sure what mistake she made
from looking at the video… The song just got cut off all of a sudden =_=;; It's touching to hear the fans
cheering her on and SNSD members yelling "Fighting" in the background :) Can't tell exactly who it was,
but I think one was from Fany?