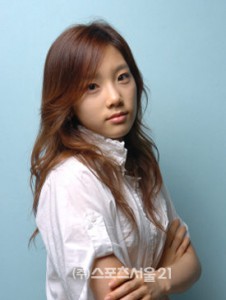 Girls' Generation leader TaeYeon will help Kangta, who will enlist in mandatory military service on the first of April.
TaeYeon, who is currently experiencing great popularity due to the success of her first solo song on the Hongildong OST, will help Kangta with his promotional activities for his first album in three years. Kangta, who is scheduled to start mandatory military service next month, will start promotional activities for his album on the 14th and will continue for two weeks until he has to enlist. Kangta has announced that "On the 29th, I will hold my first concert in 5 years at Yonsei University and TaeYeon will make a surprise appearance. In addition to this, TaeYeon will also appear on music programs with me as well."
The reason that TaeYeon and Kangta will appear together is because of their special friendship. Kangta contributed to Girls' Generation's hit album, released in November, by writing and composing a song '7989' for the album and singing it as a duet with TaeYeon. This song is also included on his album, released on the 12th.
Many fans have noted that the song 7989 stands for Kangta who was born in 1979 and TaeYeon who was born in 1989. Indeed, TaeYeon has mentioned in interviews that "Ever since I was little, I have always respected H.O.T and Kangta sunbaenim. He is such a warm and kind sunbaenim and it was an honor to sing a duet with him."
credits: sportsseoul and boxclub@soshified