'Unstoppable Marriage's [acronym="Programme Director"]PD[/acronym], "SoNyeoShiDae acting preparations are excellent"

[MyDaily] February 18th 2008 07:38AM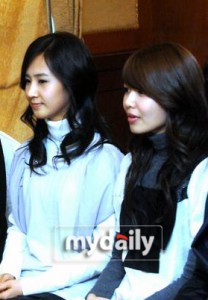 KBS 2TV Daily Sitcom 'Unstoppable Marriage' (Scenario: Ma Seok Cheol, Kim Yeong Rae, Bang Bong Won, producer: Yi Gyo Wook, Jo Joon Hee) So Nyeo Shi Dae's first acting debut, SooYoung and Yuri received a praise from the Program Director.
Currently, SooYoung and Yuri acting in 'Unstoppable Marriage' compete against each other for FT Island's Yi Jae Jin (Wang SaBaek).
Although their amount of scenes is not much, their parts couldn't be done without their cute expressions and distinctive gestures.
'Unstoppable Marriage' current directing [acronym="Programme Director"]PD[/acronym] Yi GyoWook, "SoNyeoShiDae's did a lot of preparations before shooting, I was surprised". Even though I didn't show their perfect acting, their performance enhanced because of they did a lot of preparations.
This [acronym="Programme Director"]PD[/acronym] said "They have talent in acting, especially SooYoung" and said that SooYoung has possibilies of becoming an actress, "because they live together in the same house, they can face the acting part together and come up with good preparations. So, I asked them what have they prepared before shooting." So much effort from SoNyeoShiDae in 'Unstoppable Marriage' for their appearance as 'Bul Gwang Dong's 7 Princess' because they live together in the hostel, It's easier for the two SoNyeoShiDae girls to practice together."
[SooYoung and Yuri performing in 'Unstoppable marriage'. Photograph Provider=KBS]
(Reporters Im YiRang queen@mydaily.co.kr)
Translations: ferdianap@soshified
Source: Yahoo!Korea