Hi everyone! :flowers:
I hope I'm in the right section here.
I've been collecting the poll results of SNSD with various range of topics from M.Net.
Actually, the polls is consist of various ranges of artists and singers.
But, I only take and translate the SNSD's polls. The polling periods are ranged from year 2007 until now.
I don't know if anyone have ever seen this before, because the polling itself are in Korean(not everyone can read Korean, right?), So, I 'm just trying to help. :lol:
The polling is called STAR VS STAR
you can find this poll in M.Net website. :)
Alright, let's see the polls!
First Poll,



The results,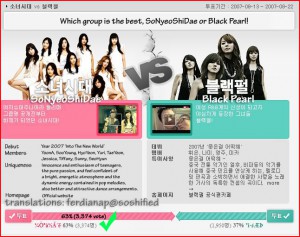 Alright! SNSD won the first poll. Congrats girls! :wewt:
Now, the second poll,



The results,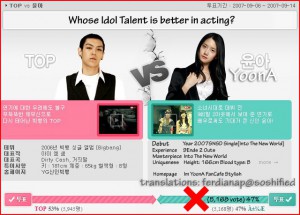 Awww, that hurts… :console:
Nooo…YoonA lost… I can't believe it! I think YoonA still act better than him.
the third poll,



The results,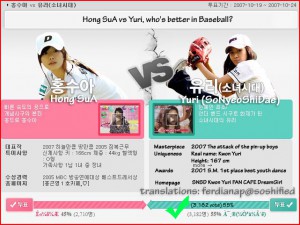 :bounce: Hurray!!Hurray!! Yuri won! OMG, Yuri is very good at sports!
You don't wanna miss this one, the fourth poll,



The results,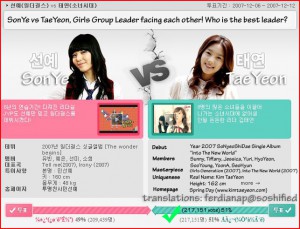 Gosh… it was so close…2%
Anyway, Our dorky leader, TaeYeon won! :dribble:
Finally, the last poll of SNSD, It's time for YoonA to get her revenge :naughty:



here is the last results,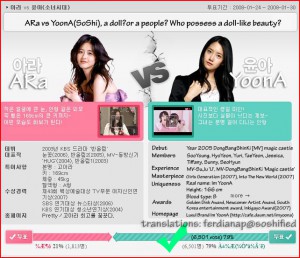 LOL 79%! very nice YoonA! very nice! hahaha :YESS:
Yes, 4 win and 1 lose. What do you guys think?
Anyway, that's the poll about SNSD for now. The last polling for now if Im not mistaken, is Lee DongHae(SuJu) VS Choi JungHoon(FT Island).
for who wants to vote but can't read Korean, feel free to PM me and I'll help you to vote.
:D
If there is another SNSD poll, I'll let you know.Thanks.
Oh, if I have mistakes on my sentences, let me know and please don't be offended.
I'm sorry that I have to translate only the SNSD part. If you need me to translate the other part, please let me know.
6th polling update: http://soshified.com/forums/index.php?show…ost&p=36169
translation: ferdianap@soshified
source: M.Net