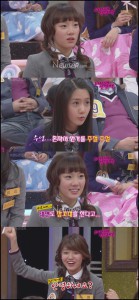 SoNyuhShiDae members, who feels like princesses sleep talk?
During the February 2nd broadcast of Star Golden Bell, the topic of sleep talking among So Nyuh Shi Dae [members] brought to light many interesting oddities about the members.
The focus of this episode was "Getting to Know Everything About SoNyuShiDae Members."
Sooyoung was voted "The Member With The Biggest Appetite" and "The Member With The Scariest Sleeping Habits."
Sooyoung makes unbelievable expressions in her sleep, according to Taeyeon, one of her roomates.
Tayeon was quoted saying: "When I wake up, I see (Sooyoung) sleeping in the opposite direction and sleep talking." Taeyeon went on to discuss Sooyoung's sleeping habits in greater detail.
Yoona, who sleeps in the same room as Sooyoung, even went as far as to imitate how Sooyoung sleep talks, and the hilarity of the situation brought much laughter from everyone in the studio.
In her defense, Sooyoung shifted the topic of sleep talking to Taeyeon's own unusual sleeping habits. According to Sooyoung, "Taeyeon will speak the truth [when sleeping]. Taeyeon will sleep talk in a Yoga type of position, and will even respond with "Annyounghaseyo" when questioned."
Sooyoung's sudden disclosure of Taeyeon's sleeping habits, made the young female leader of SoNyuhShiDae nervous in front of the studio audience.
To continue to add fire to the flames, Yoona followed up with an analysis of Taeyeon's sleep talking further causing Taeyeon to blush.
Credits: Newsen + Wenting@Soshified + Tiffany(splotchydivinity)@Soshified[Editing]
DO NOT TAKE THIS OUT ANYWHERE.
Reply if you want more~ hahahaha
Please date tag the translations from now on. ^^
—
geez..this is why we love them isnt it? ._.
One member dont wash, 2 others who dont really bath too, and 2 scary sleep talk members… HAHAHHAA