Update on December 21st, 2016:
Sooyoung has announced a contest for "Beaming Effect" through her Instagram. The contest calls for fan art entries that can be used to make a poster for the "2017 Beaming Effect" charity concert. In her post, Sooyoung gives the following guidelines:
1) Please draw that will cheer on the "Beaming Effect Charity Concert", and upload it to the fan book using the #Beaming_effect hashtag.
2) Please draw fan art that will be the main artwork for the charity concert poster for KRPS that contains meanings like "brightly open eyes" or "hope".
3) As the fan art will be used to create posters, the original work needs to be, at minimum, double sheet poster size (545 mm x 788 mm) / 300 dpi.
4) There are no limits to entries, but only one person and one artwork will be the winning entry.

The contest will run from December 20th to December 27th, and the winners will be announced on December 29th. There will be one grand prize and four runner-up awards.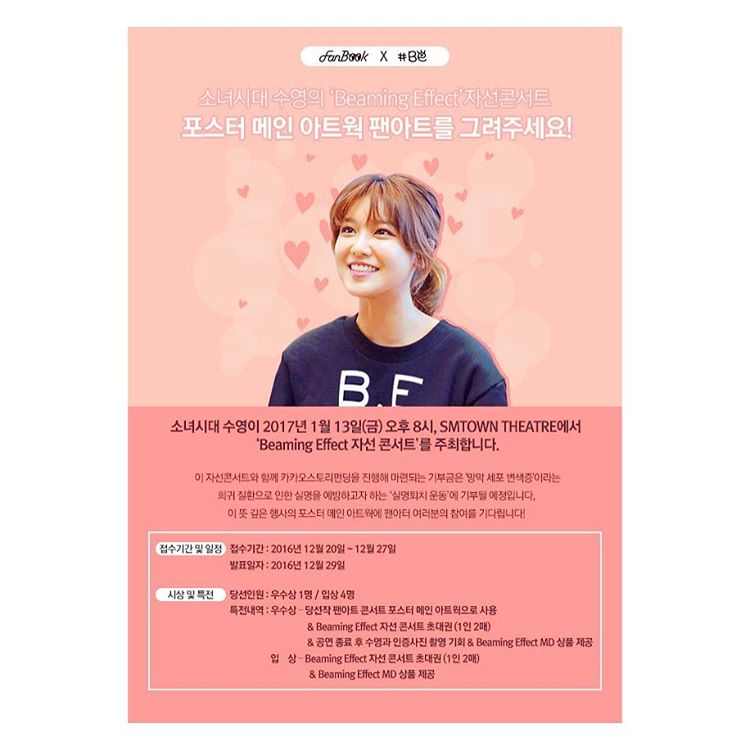 Original article from December 20th, 2016:
Sooyoung has recently started her fundraiser, titled "Girls' Generation's Sooyoung is Cheering on 'Light'", through storyfunding, in order to support the Korean Retinitis Pigmentosa Society (KRPS). This organization, which is headed by Sooyoung's father, seeks to find a cure for retinitis pigmentosa. RP is a condition that causes degeneration in the eye, and eventually results in total blindness.
To promote the campaign as part of 2017's "Beaming Effect", Sooyoung posted on her Instagram, saying, "For Beaming Effect 2017, we are starting anew! Please give it a lot of attention, and meet you at next year's bazaar and concert ❤️".
Although the 5 million won goal on storyfunding has already been reached, the fundraiser will continue until Sooyoung's birthday, February 10th.
Sources: storyfunding, Sooyoung's Instagram
Written by: moonrise31@soshified
Contributor: SonexStella@soshified
Have a news item that you think Soshified should know about? Leave us a tip or e-mail us at tip@soshified.com.
Follow us on Twitter – http://twitter.com/soshified – for the latest on Girls' Generation.