Videos
OnStyle Reveals New Video Featuring Jessica
OnStyle revealed a new video featuring Jessica. In the clip, Jessica reveals some tips and secrets on beauty, skincare, and makeup.
Girls' Generation Films Video Messages Supporting BoA's "Make Your Move"
Girls' Generation recently filmed and uploaded a supportive video message for their labelmate, BoA. BoA's movie, "Make Your Move", was recently released, and the girls took part in two songs for the
soundtrack
. Jessica also recorded her own individual clip in support of BoA.
"Rio 2" Releases New Video Featuring Sunny
With "Rio 2" nearing its May 1st premiere in South Korea, another new video was released, featuring Sunny and the other voice actors. Sunny's singing and clips from the behind-the-scenes photoshoot for the movie are all included.
Salvatore Ferragamo Unveils Video Featuring Taeyeon, Tiffany, and Seohyun
Salvatore Ferragamo recently unveiled a new photoshoot video with a number of Korean celebrities as models. Taeyeon, Tiffany, and Seohyun took part in the feature, each modeling different outfits and shoes.
"Marie Claire" Reveals Behind-the-Scenes Video Featuring Yoona
"Marie Claire" revealed a behind-the-scenes video of Yoona's photoshoot with the magazine. Yoona looks stunning as she poses for the camera, modeling the Cartier watch.
Endorsements
Lotte Department Store Reveals New Video Featuring Girls' Generation
This past week, Lotte Department Store revealed a new video featuring Girls' Generation. It includes various scenes from the ladies' photoshoot.
Others
Tiffany Calls "Arirang" Radio
On March 31st, Tiffany made a special guest call to "Arirang" radio to congratulate and speak with fellow labelmate and close friend, The Grace's Stephanie. The two conversed entirely in English, touching on a variety of different subjects.
Jessica and f(x)'s Krystal to be Featured in "Nylon" Magazine
S.M. Entertainment has revealed that Jessica and f(x)'s Krystal will be featured in both the U.S. and Korean versions of "
Nylon
" magazine. The two sisters will be working with renowned photographer and "Nylon" editor-in-chief, Marvin Scott Jarrett.
Seohyun Posts New Photo and Message on SONE PLUS+
On April 4th, Seohyun posted a new photo and message on SONE PLUS+. She wanted to greet fans in advance of Girls' Generation's upcoming
third Japan tour
. Visit Soshified's
Translated Goodies Section
to read her fully translated message.
Photos
Tiffany Uploads New UFOtown Profile Picture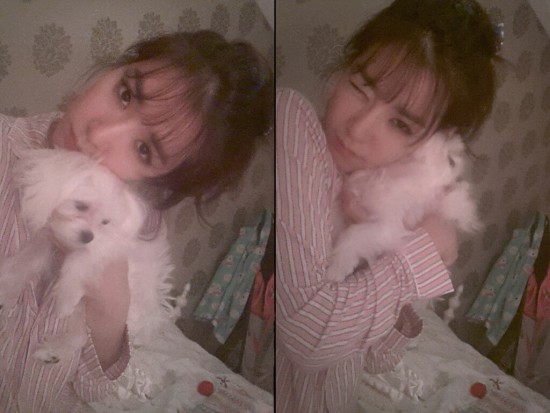 On March 31st, Tiffany uploaded a new UFOtown profile picture. Dressed in pajamas, Tiffany took a two-shot selca with her dog, Prince Fluffy.
Lee Jeehoon Tweets Photo of Himself with Yuri
On April 3rd, Lee Jeehoon
tweeted
a photo he took with Yuri and a cast member of the musical, "Wicked". In the picture, Yuri happily strikes a pose while standing between Elphaba and Lee Jeehoon.
Sunny and Yoona Visit Hong Seokcheon's My Thai Restaurant
On March 31st, a photo of Sunny and Yoona visiting and eating at My Thai restaurant in Itaewon was
tweeted
by the owner, entertainer Hong Seokcheon. The two ladies pose in one of the frames while the other frames feature various dishes. Sunny posted the same picture on her
Instagram account
.
S.M. Entertainment Reveals Photos from "Mr.Mr." Real Moment Replay
SM Entertainment recently posted photos from Girls' Generation's "Mr.Mr." Real Moment Replay, which was held on March 30th. The picture above is just one of the many snapshots from the event; the rest are available on Girls' Generation's official
Facebook page
.
Girls' Generation Posts Google Shelfie for Gmail
The ladies of Girls' Generation posted a backstage group photo for Google's
Gmail shelfie
, one of Google's several April Fool's jokes this past April 1st. The picture can be used as a theme for Gmail. The picture, in different resolutions, can be found in Soshified's
Photos Section
.
Events
• 04/02: Jessica at STUDSWAR – Fantaken and News Photos
• 04/02: Sooyoung at DOUBLE-M Styling Talk – Fantaken and News Photos
• 04/03: Girls' Generation – TTS at Salvatore Ferragamo "L'Icona" Launching Event – Fantaken and News Photos
• 04/04: Jessica at SOUP Fansign – Fantaken and News Photos
New Sets of Pictures
banilla co. – Jessica (1)
B-ing – Taeyeon (1)
Casio "Baby-G" – Yuri (1)
DOUBLE-M – Sooyoung (1)
Innisfree – Yoona (1)
Lotte Departement Store – Group (1) (2), Yoona (1)
Mamonde – Yuri (1)
Nature Republic – Taeyeon (1)
SOUP – Jessica (1)
VOGUE "L'Icona Ferragamo" – Group (1)
Girls' Generation on Social Media
Taeyeon – Instagram
Jessica – Weibo
Sunny – Instagram and Twitter
Hyoyeon – Instagram
Yuri – Instagram
Sooyoung – Instagram and Weibo
Seohyun – Twitter
SONE Picture/Video of the Week
Girls' Generation's "Mr.Mr." promotions may have come to an end, but they have certainly left a definite impression on SONEs these past few weeks, amazing us again and again with a new outfit every time they appeared on stage. Enjoy this fan's adorable rendition of our favorite girls in suits.
If you have any pictures or videos you'd like to submit for SONE Picture/Video of the Week, please feel free to do so by sending them to the Soshified Writing Team at tip@soshified.com or posting at the official SONE Picture/Video of the Week thread.
Sources: UFOtown, onstyleTV@YouTube.com, Tonyhong1004@Twitter.com, SMTOWN NOW, leejeehoon79@Twitter.com, SMTOWN@YouTube.com 1, SMTOWN@YouTube.com 2, FoxMovieKorea@YouTube.com, 백화점롯데@YouTube.com, FerragamoOfficial@YouTube.com, GirlsGeneration@Twitter.com, RedSunsetXIII@Twitter.com, gmail@Twitter.com, marieclairekr@YouTube.com, bugfany11@YouTube.com, YuSuWu@Twitter.com
Written by: kt9823@soshified, moonrise31@soshified, dandan87@soshified
Edited by: bhost909@soshified
Have a news item that you think Soshified should know about? Leave us a tip or e-mail us at tip@soshified.com.
Follow us on Twitter – http://twitter.com/soshified – for the latest on Girls' Generation.