Videos
KBS Uploads Behind-the-Scenes Video from "Prime Minister and I"
KBS recently uploaded a new behind-the-scenes video from the filming of "Prime Minister and I". The clip shows Yoona, in character, as the many cast members skate together.
Tiffany Visits Seo Sookyung on "fashion Killa"
Tiffany recently appeared on OnStyle's program, "fashion Killa", to support stylist Seo Sookyung, who has worked with Girls' Generation in the past. Tiffany offered tips based on her experience as one of the competitors in SBS's "
Fashion King Korea
". Taeyeon has also mentioned "fashion Killa" on her
Instagram
, asking her followers to vote for Seo Sookyung.
Endorsements
FreshLook Releases New CF Featuring Yoona
FreshLook released a CF for its "Light Brown", "Rich Brown", and "Black" circle lenses. In the CF, Yoona is wearing the "Light Brown" circle lenses for a girlish look and "Rich Brown" for a feminine look.
Others
YesAsia Reveals Bestseller List
YesAsia recently revealed its bestsellers for the year 2013. Girls' Generation's "LOVE&PEACE" came in second for bestselling J-Pop album, and "GIRLS&PEACE" placed ninth and remains the most popular among Korean artists in Japan. In addition, "I Got A Boy" was the second-best selling K-Pop album on YesAsia.
Photos
Tiffany Uploads New UFOtown Profile Picture
Tiffany recently uploaded a new profile picture onto her UFOtown account. The photo is a set of four pictures, Tiffany showing off various cute expressions in each one.
Kang Yujeong Tweets Picture of Herself with Seohyun and Musical Cast
Kang Yujeong tweeted a picture of herself with Seohyun and the rest of the musical cast of "Moon That Embraces the Sun". The caption reads, "Practice [is] over!! Seohyun, thank you for the hoodie! Your fanclub is the best". The musical's first performance was on January 18th in the Seoul Arts Center.
IPKN New York Facebook Shares Behind-the-Scenes Photo of Tiffany
IPKN New York posted a new behind-the-scenes photo of Tiffany on its Facebook page. This photo shows Tiffany preparing for a photoshoot. Her dog, Prince, seems to have accompanied Tiffany to work.
SMTOWN's Official Twitter Posts Photos of Yoona on Set of "Prime Minister and I"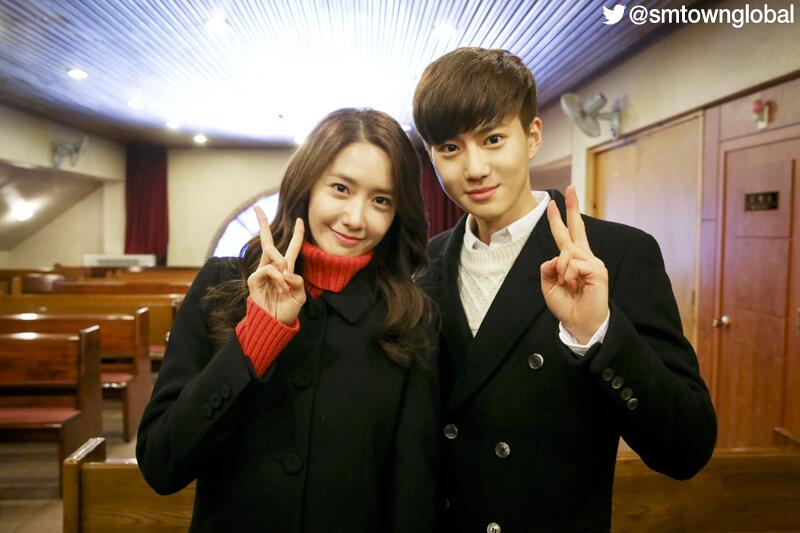 SMTOWN's official Twitter account uploaded two photos of Yoona together with EXO member Suho, who is making a guest appearance in KBS's mini drama "Prime Minister and I". Girls' Generation's official Twitter account also tweeted a photo of an adorable Yoona, dressed in red while wearing a warm jacket. For more photos, please visit Girls' Generation's official Facebook page.
"University of Laughs" Reveals Photo of Yuri and Other Guests
Recently, Yuri visited the play, "University of Laughs". The
tweet
accompanying the photo reads, "#universityoflaughs The person who visited the University of Laughs yesterday was Girls' Generation's Yuri! A shot with yesterday's guests, actors Seo Hyunchul and Ryu Deokhwan! They left an amicable, friendly photo as proof :) Thank you! We hope you had an enjoyable day with the University of Laughs!"
Events
• 1/14 Yuri at "Miss Granny" VIP Premiere – Fantaken and News Photos
1/16 "28th Golden Disk Awards" – Fantaken and News Photos
New Sets of Pictures
CASIO "Real Baby-G" – Tiffany (1)
Cotswold – Sooyoung (1)
DOUBLE-M – Sooyoung (1)
"Fashion King Korea" – Tiffany (1)
IPKN – Tiffany (1)
Lotte Department Store – Taeyeon and Yoona (1)
Nature Republic – Taeyeon (1)
"PlayDB" – Seohyun (1)
"Prime Minister and I" – Yoona (1) (2) (3) (4)
SONE PLUS+ – Group (1)
"Moon That Embraces The Sun" – Seohyun (1) (2)
"Vogue Girl" Magazine – Tiffany and Yuri (1)
Girls' Generation on Social Media
Taeyeon – Instagram
Jessica – Weibo
Sunny – Instagram and Twitter
Hyoyeon – Instagram
Yuri – Instagram
Seohyun – Twitter
SONE Picture/Video of the Week
After paving the way for Girls' Generation members to venture into social media, Taeyeon has been steadily keeping SONEs updated through her Instagram. This fanmade compilation is a collection of the many short clips that she has posted on the site. And with each video, we will no doubt fall in love just a little more.
If you have any pictures or videos you'd like to submit for SONE Picture/Video of the Week, please feel free to do so by sending them to the Soshified Writing Team at tip@soshified.com or posting at the official SONE Picture/Video of the Week thread.
Sources: smcultureandcontents@YouTube.com, UFOtown, yujeong08@Twitter.com, IPKN New york@Facebook.com, Yesasia.com 1, YesAsia 2, SMTOWNGLOBAL@Twitter.com 1, SMTOWNGLOBAL@Twitter.com 2, GirlsGeneration@Twitter.com, GirlsGeneration@Facebook.com, MarkJay@Youtube.com, Ken G@YouTube.com, thebestplays@Twitter.com, krisbrows04@YouTube.com
Written by: kt9823@soshified, happyg@soshified, dandan87@soshified, moonrise31@soshified
Contributor: ch0sshi@soshified
Have a news item that you think Soshified should know about? Leave us a tip or e-mail us at tip@soshified.com.
Follow us on Twitter – http://twitter.com/soshified – for the latest on Girls' Generation.