Editor's note: text in italics are the thoughts and words of the interviewer.
Tiffany's energetic voice filled the studio. I'm currently watching a scene of Girls' Generation's Tiffany and SISTAR's Bora's friendship. With bright and healthy appearances, they took selcas making funny facial expressions on purpose and gave each other tips regarding what kind of clothes suit one another without hesitation. While continuing their petty, everyday occurrences that reminded me of the chats I have with friends, Tiffany, who has particularly white skin, would laugh loudly, saying, 'We're like cookies and cream, being together with tan-skinned Bora', and Bora would simply agreed. This was like the natural sense of closeness between two children, different from friendship, packed with charming actions of excessive compliments that's commonly seen on television. It's not easy for a member of one of the top idol groups, amidst the overflowing amount of girl groups, to do a magazine photoshoot with another group's member. It seems the management companies 'consenting' to this was only possible because they are 'Tiffany' and 'Bora'.
Like an empty friendship, it's not easy for people who simply know each other through work to appear so smooth. Becoming friends with someone met through everyday life requires absolute timing or careful efforts. The two's history is short but strong, and more than anything, it's natural. It was to the point where Hyoyeon and Sunny noticed Bora was Tiffany's 'match' upon first glance while filming the variety show 'Invincible Youth 2' and introduced them to each other. Tiffany replied to the question of how they were able to create a friendship, rather than having a sense of rivalry, through sharing their experience in girl groups.

Tiffany:
I think it's because she came and met me now. I'm in my 7th year, and Bora's in her 3rd. If it was me four years ago, I don't think we could have gotten this close. Early during my debut days, I wouldn't greet rival groups well and was cold. Now though, that friend and I laugh and say, 'We were like that back then!' (laughs) Normally, when girls record something together, there's a peculiar war of nerves, wanting to look prettier. But, you saw us earlier, right?
Recalling them picking up a one-piece embroidered with bright flowers, coolly sharing their opinions by saying, 'Since you wore that for the earlier cut, I want to wear this!', I agreed, when Bora added a comment.

Bora:
Tiffany's a senior. So she gives me elaborate advice. I think that, because we both know we're bad at trying petty tricks, we can confide things in each other that we couldn't with anyone else. We really share a lot of secrets. (laughs)
When you think of idol friends, you may think they do something special, but the two spend their time just like other people in their 20's. They look for good restaurants and go shopping, but they usually relax and stretch out at Tiffany's house. Bora, who says she has many celebrity friends, feels closer to Tiffany for being able to share everyday life just like that.
Bora: After feeling tired going around outside, I call Tiffany and ask if I can go to her house. When you think about it, Tiffany came from the US, and because she has such distinct taste, we have a lot of differences. She's a friend who completely understands our differences and accepts them. We don't really do anything in particular. We just stay there. As is.
Being able to spend time together, where silence isn't awkward, is special in itself.

Bora came to the set wearing a boyish, Stussy crew neck and converses, and Tiffany wore a colorful cardigan with pink accessories. While their personalities are compatible, after getting to know them, they have completely different tastes. The two recently paired up with fashion designers and are appearing in a fashion survival program, 'Fashion King Korea', where they put on a show set to a theme.
Tiffany: Not only are our tastes different, but the way we work is also completely different. If Bora's a gentle style, like flowing water, I'm the type to meticulously check each and every thing. Similarly, when it comes to judging, rather than taking things in like, who is superior, I think it's a question of timing. And we have a relationship where we can applaud regardless of who receives the most votes. To be honest, we had a hard time trying to make time to meet, but we've gotten the chance to meet once a week. This is better.
Bora completely agreed with Tiffany.
Bora: We have to show a rivalry, but it doesn't work like we want, so the production crew is is probably confused too. To be honest, when I meet Tiffany, we don't really talk about 'Fashion King Korea'. (laughs) Because we're busy chatting about other things.
People might not have believed it if they gave an obvious answer, like they hope to make it together until the end [of the show]. But recalling how they looked like they don't pay attention to having 'beauty contests' on set, I soon agreed.

Tiffany has strong ambitions and is clear. An interview with her reminds you of the cool, pleasant feeling of stepping on the gas pedal, darting down the road. While she is going around the world with Girls' Generation, there are more things she wants to do, other than what she has done thus far. Each step taken for her greed has been because of her rushing momentum. She's passionate about fashion, to the point of filling up her tablet PC with runway cuts, and hair and makeup drafts. She's also precise to the point of nitpicking even one centimeter between the neckline and hemline. 'Fashion King Korea' is like a stage to test Tiffany, who handled Girls' Generation and Girls' Generation – TTS's visual directing, for her potential as a visual director and designer.
Tiffany: Whenever a concept was given to us, I think that doing things by recalling what we've practiced, drawn out, and seen thus far is something we ought to do, so I lay out each repertoire. I learned that you can only make things work by working with someone who knows how to make what you draw out a reality. In that sense, I feel like visual directing suits me more than design.
She seemed really excited, saying she's busy with the visual directing of Girls' Generation's new album that will release soon. After gathering interviews about the nine Girls' Generation members' preferences that were collected in archives, she is now attending production meetings.
Tiffany: When thinking of each of their features, there are a lot of things you could do with the nine members' items. When you think of it like that, it's disappointing because it seems like we've been doing too many of the same styles of hair and makeup. I want to make it so each of the members' personalities stand out in this album.

If Tiffany shines powerfully, Bora is a woman with an inward potential. Not a healthiness that comes from her nickname 'athletic-dol'
(translator's note: a portmanteau of "athletic" and "idol")
, or her muscular legs, but a vigor that conveys energy to others. So like an ingenuous professional that has the power of making the air comfortable. 'Fashion King Korea' is a challenge of a different level for Bora. Compared to the eyes of the general public that SISTAR always has to keep in mind while promoting, 'Fashion King Korea' is something where she can fuse her personal taste wholeheartedly.
Bora: To be honest, I didn't really have much interest in fashion. I've been on many programs that determine rankings, but I've never been more nervous than when I was getting evaluated on there. It's so pretty in my eyes, but there are some feelings of embarrassment because of the point and elimination system. Initially, I was really careful, but now I've been summoning up some courage. I'm putting more of my thoughts in the styling, and because I like snapbacks so much, I have a desire to create my own later on.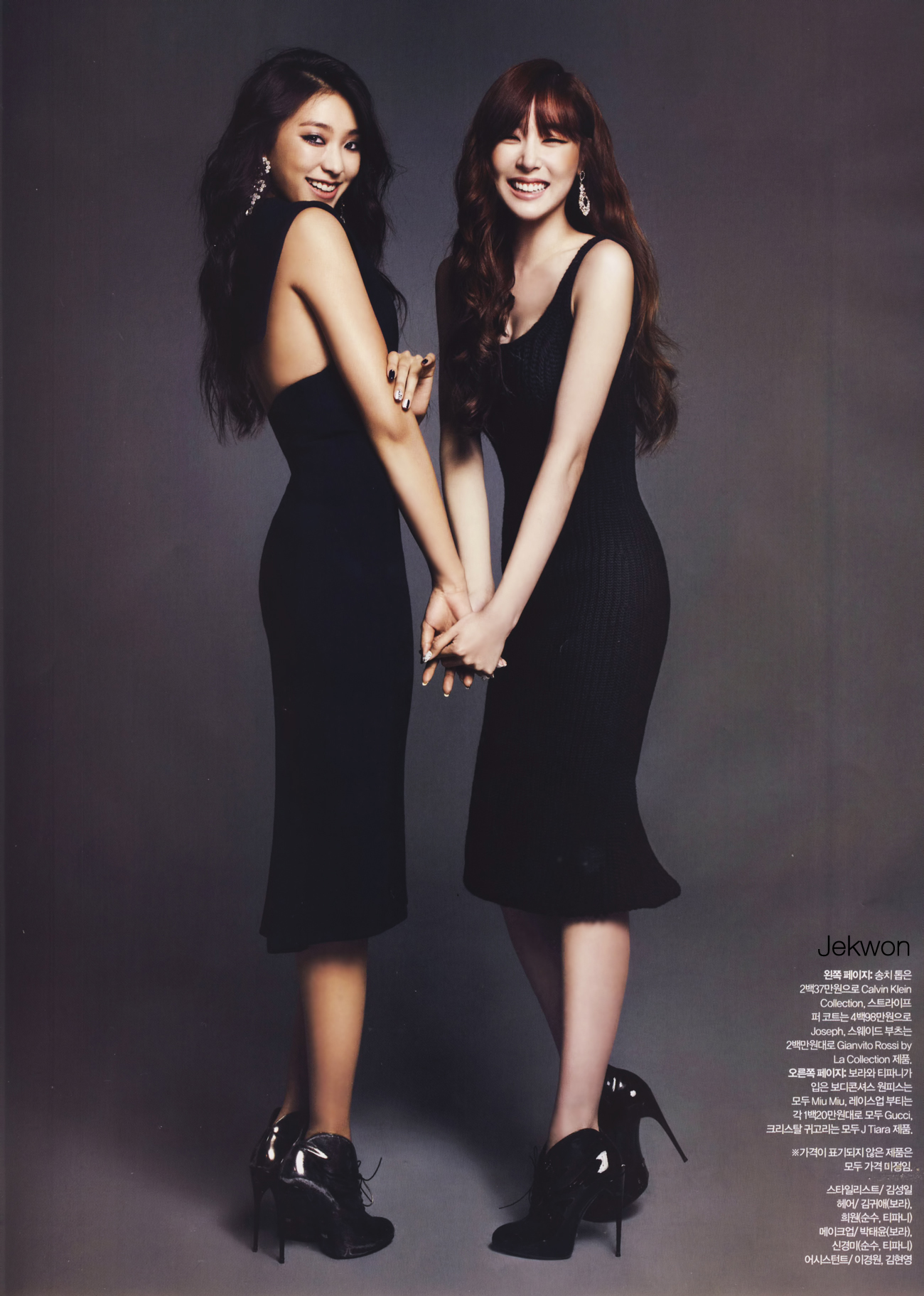 Anyway, it seems the two people of the same age are running through a keen youth in their own ways. Chatting with these two, who are just turning 26-years old, made me wonder about their 20's. Because when I looked back 10 years, having entered my 30's, my 20's were a time where I looked for and created my own personality and preferences.
Bora: I spent my time mindlessly lately. I took time off from university, and when I became a singer, I poured all my passion into that. Because I only show pretty and sexy appearances due to the nature of my occupation, people are jealous, but it's difficult finding the little things that come about in regular life. So I think you need to have the feelings of a young girl even more as a woman. Maturity and glamor is important, but I think there needs to be ardent and loving feelings as well.
Once Bora carefully finished her words with her characteristic youthful way of speaking, Tiffany added onto it with her resolute way of speaking.
Tiffany: When looking back on myself, all of my great and slightly embarrassing moments were all pink. Guarding my taste of liking pink until now, is a bit tacky in a way. (laughs) To this day, my role model is Elle Woods from the film 'Legally Blonde'. She said this. 'You… got into Harvard Law? What, like it's hard?' I always want to look at life and all my dreams in that way.
Sources: Harper's Bazaar Magazine, je-kwon
Translated by: ch0sshi@soshified
Edited by: bhost909@soshified
Have a news item that you think Soshified should know about? Leave us a tip or e-mail us at tip@soshified.com.
Follow us on Twitter – http://twitter.com/soshified – for the latest on Girls' Generation.