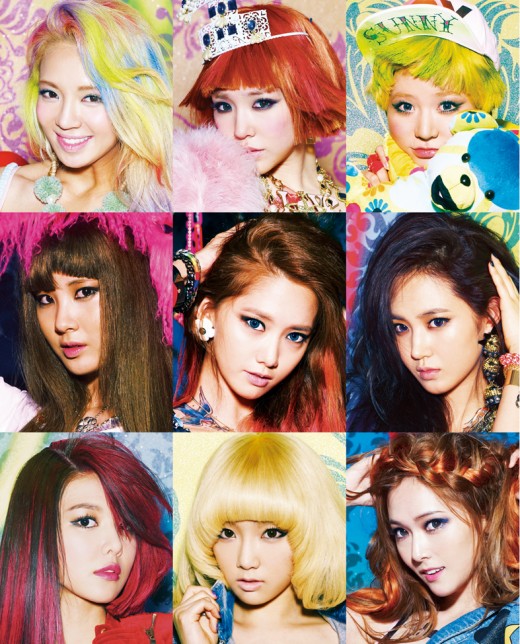 Out of all the girls living in Korea, they receive the most attention. The songs and dances they show always decorate the number one spot on music charts, and they lead trends from head to toe. Every one of the girls' moves are of interest, not only in Korea, but overseas as well. They are a girl group that doesn't need a modifier before their name or any explanation: Girls' Generation.
Girls' Generation has been spending the days busily after releasing their fourth official album, "I Got A Boy", on January 1, 2013. However, they said they could never give up on this time. Saying they can make their stress fly away and rest up once they start to laugh and chat away, the members' free "chatting time" started again today.
◆"I Got A Boy"
Yuri: What do you guys like most about us starting our activities again after such a long time?
Seohyun: That, as expected, we need all nine members. It was fun being active as the unit Girls' Generation – TTS, but I think there's a greater gain of energy when all the members are together.
Tiffany: That's true, an energy that fills up the stage. Also, there's the reliable feeling of being able to lean on the other members.
Sunny: I like that other members can either fill in what I lack in, or that I can learn from them. Yeah, I could feel that there needs to be nine members.
Taeyeon: By any chance, is there anyone who knows anything about our unit activities?
Tiffany: Because we received a positive response, if given the opportunity, I want to do it again. I think the possibilities of Girls' Generation – TTS unit activities are open. Let's try to take it into a varietal direction in whatever form.
Sooyoung: We need to work hard on this promotion cycle as well. It's something our fans wanted too.
Seohyun: We don't need to win and receive a trophy, but we can't help but laugh at moments like that.
Tiffany: Who doesn't like getting number one, right?
Girls' Generation: Of course.
Seohyun:
I was happy that I was able to work on writing the lyrics in this album with you unnies for the first time.
Sooyoung:
I think whenever the results come out, there is a sense of frustration that's left. I guess it's not being able to be 100% satisfied? Still, sharing each others' thoughts is new. I felt proud, and it was thrilling hearing the lyrics I wrote through the members' voices.
Taeyeon:
I want to feel that too, but my lyrics were eliminated. Heuk heuk.
(translator's note: crying sounds)
.
Yuri:
Then make a song for us next time please.
Tiffany:
I'm sad that only my English lyrics always pass through.
Sooyoung:
Did everyone write lyrics?
Taeyeon:
Ours got dropped, so we didn't say anything out of embarrassment.
Yoona:
My lyrics were dropped too.
Sooyoung:
The people whose got picked, including me, have a lot of good luck (laughs).
Tiffany:
Even if all the members attempt writing lyrics, not everyone can get picked.
Taeyeon:
You know how we get composing, piano, guitar lessons whenever we have time. I wish we would get more time to practice.
◆
Girls' transformations-attempts-satisfaction
Yuri: Honestly, rather than the modifier of 'Korea's representative girl group', the burden on how much we've grown since our past is greater. At first, I was scared and worried, but once we got on stage, I felt proud of our attempt, and it's fun.
Tiffany: Our choreography and outfit transformation played a part.
Taeyeon: I really~ like the outfits because they're comfortable. Haha.
Sooyoung: We said we should send all the outfits we wore before to the incineration plant and burn them all (laughs). And we named them 'incineration plant one', 'incineration plant two'. We danced wearing clothes that would stick to our bodies, and sweat couldn't be emitted. We had a hard time wearing those clothes, and muscle aches wearing heels.
Yoona: No matter how tiring this choreography is, the conclusion is that it's still a lot better wearing comfortable clothes and no heels (laughs).
Sunny: You're right, comfort is the best.
Seohyun: The accessories are heavy, but I like that they're durable. Though it's a little tiring when head banging (laughs).
Tiffany: There's a lot of appraisal saying we're cute after taking off our high heels. But when we stand together in one line, there are too many differences in height. That's the bad thing about sneakers. That the short members appear clearly (laughs).
Hyoyeon:
How did you all feel after seeing the pre-released 'Dancing Queen' music video?
Sooyoung:
Why did they make us go through this ordeal.
Taeyeon:
I wondered why they had to release something we shot in the past now.
Yoona:
My fingers and toes curled.
Tiffany:
Still, because there was 'Dancing Queen' at that time, we were able to release the next album after that. We were more conditioned, made up. Let's console ourselves with those effects. Heuk heuk.
Taeyeon:
We didn't have a lot of makeup on then too. It was awkward in the past because we paid attention to even one strand of hair. Because we didn't know that being natural could be pretty.
Seohyun:
Seeing us then, we really looked young. But I could feel that, rather than trying to enjoy it, we tried to work hard. We probably put in a lot of effort to look pretty, but we looked really cute.
Sunny:
Seohyun was in her second year of high school then. A total baby.
◆
Girls' marriage and childbirth
Seohyun: We've already been active for seven years now. Even when we go to music program waiting rooms, almost everyone is a junior singer. In the past, we needed to go and greet people, but it's interesting that they come to us now.
Tiffany: There are so many talented juniors. We need to work that much harder too.
Sooyoung: In the past, when seniors told us we looked alike, I thought, 'Why do they think that?' But now that I'm in their position, I think I can understand (laughs).
Seohyun: I was seventeen when we were active, but it's really amazing seeing young members these days. It even makes me say, 'People were born in 1996 too?'
Taeyeon: Yeah, under Girls' Generation's name, naturally, we will get older, and time will pass.
Seohyun: I want to hurry and get married. I don't know when it will be, but when I find someone I love (laughs).
Tiffany: I met Wonder Girls's Sunye's fiance, and I was really jealous. While sincerely congratulating her, I thought about how it would be if one of our members would get married to a person they love.
Hyoyeon: If there is someone like that in Girls' Generation, first of all, we'd have to congratulate them.
Taeyeon: But they will only be able to get married after getting permission from the eight members (laughs).
Sunny: There are eight sisters-in-law alone (laughs).
Seohyun: Eight wedding photoshoots, wedding songs, maids of honor… Wow, and hundred-day birthdays for babies. It's going to be really hectic.
Yuri: It's not like we're each only going to have one kid either. If each member is to have two kids each, that's eighteen 100-day birthdays we have to go to.
Taeyeon: As time goes by, fans will probably press us to date. And to hurry and get married and have kids.
Tiffany: Aside from Sooyoung, Yoona, and Seohyun, six members are 25 years old. Are we no longer girls? Heuk heuk.
Taeyeon: But none of us have gotten married or had kids. So shouldn't we be able to keep being girls?
Sooyoung: Yeah, I think Girls' Generation is used as a pronoun.
Yoona: You're right. Because there are so many people who see us in that light, it feels like we can live the rest of our life as girls.
Hyoyeon: Like how there aren't actual juniors in Super Junior (laughs).
Girls' Generation: Yeah, we're Girls' Generation forever~
Source:
TVReport
Translated by: ch0sshi@soshified
Edited by: bhost909@soshified
Have a news item that you think Soshified should know about? Leave us a tip or e-mail us at tip@soshified.com.
Follow us on Twitter – http://twitter.com/soshified – for the latest on Girls' Generation.