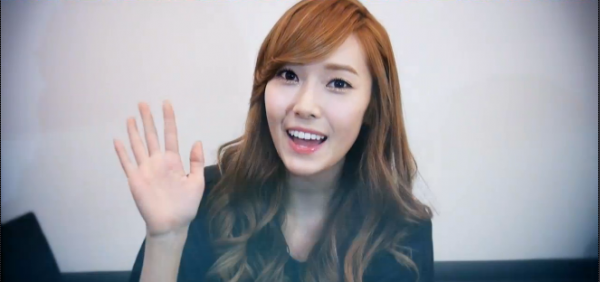 Update with English-subbed version of Jessica's comeback message:

Original article from 12/12/29:
Following the release of Hyoyeon's video message and the teaser for the dance version of the "I Got A Boy" music video, Girls' Generation has just revealed Jessica's comeback video message. A shortened preview version of the clip was uploaded on Naver tvcast, and the full-length version was sent to users on Naver's LINE phone and desktop application.
In the video, Jessica talks about the activities that Girls' Generation's members have been busy with, including preparations for the group's long-awaited Korean comeback, practice sessions for Girls' Generation's upcoming Japanese tour, and the musicals she and Sunny have been performing in. She concludes the video by saying, "We're working hard because we want to meet you all soon, so wait a little. End what's left of 2012 well, and start 2013 powerfully with Girls' Generation. Please look forward to 'I Got A Boy'."
The last comeback video message, belonging to Sooyoung, will be released tomorrow. More details about Girls' Generation's fourth album, "I Got A Boy", can be found here.
Sources: Naver LINE, Naver tvcast, ssfshortclips2@YouTube.com
Written by: kt9823@soshified
Contributor: ch0sshi@soshified
Edited by: bhost909@soshified
Have a news item that you think Soshified should know about? Leave us a tip or e-mail us at tip@soshified.com.
Follow us on Twitter – http://twitter.com/soshified – for the latest on Girls' Generation.