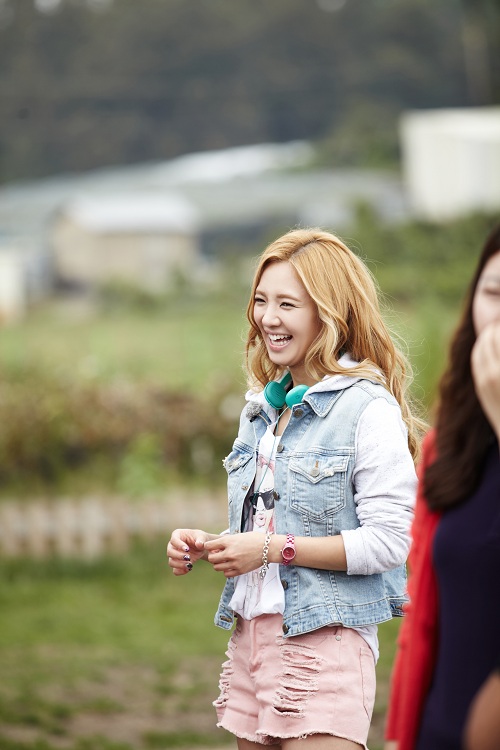 Recently, interviewer Jung Seokhee had the opportunity to ask questions to Hyoyeon and the rest of G5, made up of Jewelry's Yewon, SISTAR's Bora, Kara's Jiyoung, and Miss A's Suzy, along with other members of the cast of "Invincible Youth 2". During the interview, Hyoyeon and the other cast members spoke about her confidence, her specialty among the G5, and her cooking skills.
Lee Youngja, an actress, comedian, and one on the MCs of the show, discussed Hyoyeon's role as the mood-maker, saying, "Hyoyeon makes the atmosphere [fun], but she is the type to say what she has to without being afraid of anyone. It was nice, because she has confidence."
Jung Seokhee then asked the G5 members about the recent change in the show's hosts, saying, "'Invincible Youth 2' is like a job for G5. As it is a scary senior (translator's note: he is referring to Lee Youngja) coming in place of a pretty boy (Ji Hyunwoo), I assume you might have felt uneasy on the first day (laugh)."
Hyoyeon answered, "I, too, was worried, but that was very momentary. Right now, I always like it (translator's note: Hyoyeon is saying she is happy with Lee Youngja joining the show). I like everything."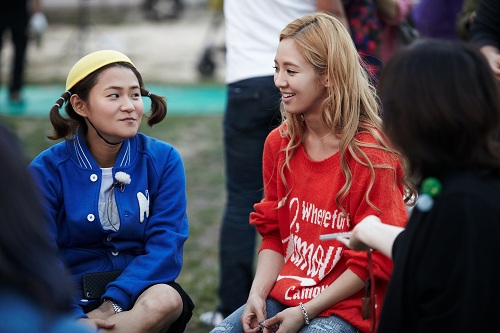 Jung Seokhee also asked Hyoyeon what she was the best at doing on "Invincible Youth 2". With an awkward expression, Hyoyeon replied, "I'm not exactly sure what I'm doing well in."
Kim Shinyoung came to Hyoyeon's rescue, saying, "Hyoyeon's specialty is her instant wit. For instance, even when Youngja mom makes a cheesy joke every now and then, we all laugh it over thanks to Hyoyeon's wit."
Hyoyeon then talked about her image on the show. Jung Seokhee asked, "Hyoyeon, are you normally not good at housework? That's not it, right? You always seem to be getting in trouble with mom (translator's note: Lee Youngja) while being compared to Bora."
She answered, "It looks like that, right? I'm actually the best cook amongst the members, but out of nowhere, Youngja mom started pushing me towards [the image of] not being good at [house]work, heuk heuk (translator's note: crying sounds). However, there isn't really much reason to come out showing that you do well here, because you'll just have to work more then (laugh)."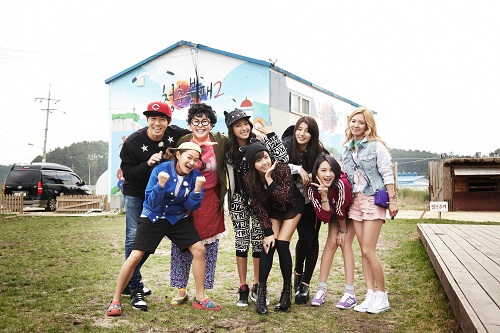 Finally, Jung Seokhee brought up "Dancing with the Stars II", asking, "When you went between this [show] and MBC's 'Dancing with the Stars II' before, I assume you would have been very tired. Did the 'Invincible Youth 2' members give you words of encouragement?"
Hyoyeon revealed, "I'm… not sure. They did send me text messages though. However, even that was after they watched reruns (laughs)."
Boom, another MC on the show, added, "Like when Hyoyeon is doing well, if Youngja noona does something well or if someone has a kiss scene with a guy, we immediately text each other. We encourage, get jealous of, and tease each other. Then there is a fuss during the next meeting."
Sources: Naver 1, Naver 2
Translated by: ch0sshi@soshified
Edited by: bhost909@soshified, residentbenchwarmer@soshified, Best Served Soup@soshified
Have a news item that you think Soshified should know about? Leave us a tip or e-mail us at tip@soshified.com.
Follow us on Twitter: http://twitter.com/soshified for the latest on Girls' Generation.