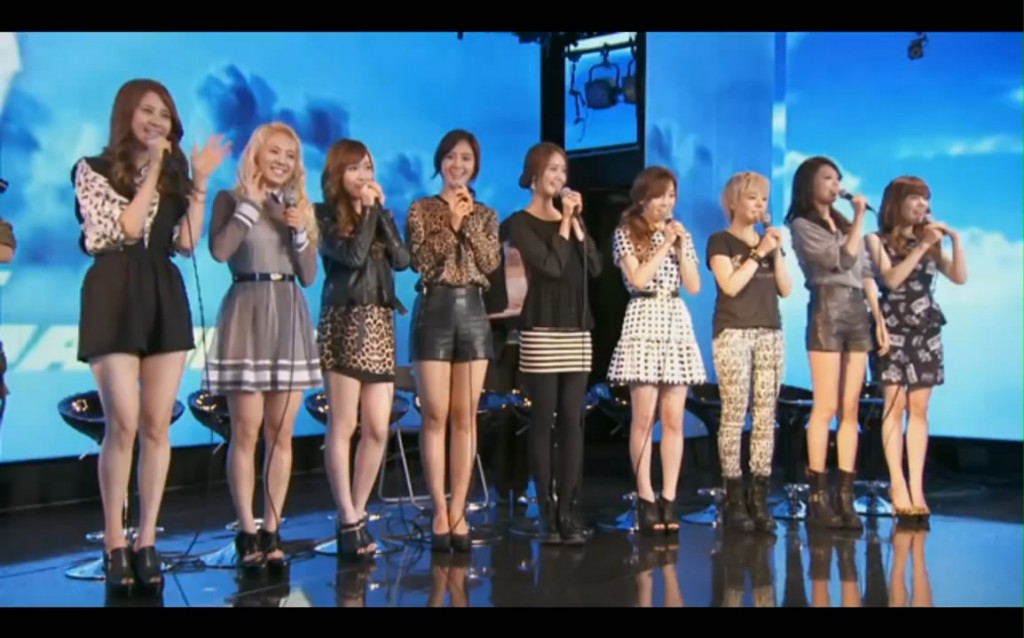 On October 5th, Girls' Generation appeared on "Nico Nico Douga", a Japan-based streaming website that is similar to YouTube. During the show, the members talked with three hosts about a dance cover contest and gave advice on performing the choreography of four of Girls' Generation's Japanese title tracks.
Girls' Generation's appearance began with an introduction of a dance cover contest that will take place through the "Nico Nico Douga" website. Fans participating in the contest will perform a dance cover of either "Genie", "Gee", "MR. TAXI", or "Oh!". Videos of the cover performances will be uploaded to the "Nico Nico Douga" website, where there are already hundreds of Girls' Generation dance cover videos. Winners of the contest will have the opportunity to perform in front of Girls' Generation at a fan event in Japan in November. Taeyeon said, "I'm looking forward to seeing the covers live. I'm interested in how long they practiced, and I would like to meet them soon."
In the first half of the show, the three MCs played several examples of dance covers as the members of Girls' Generation commented on the performances. During one of the dance covers, Yuri said that she liked the performer's outfit and that the performer was even better than the members of Girls' Generation when they first tried to dance to "Genie". The members also tried to guess who the dancer was copying, saying that it was either Sunny or Sooyoung.
Afterwards, Girls' Generation stood up to imitate a dance performance being played on a large screen in the background. This dance was originally performed by Hatsune Miku, a virtual singer with a female persona. The MCs then played "Genie", "Gee", "MR. TAXI", and "Oh!", and asked for tips on how to perform the dances.
The show ended with a request for a "saranghaeyo" (editor's note: "I love you" in Korean) pose from all of the members, who made heart signs with their hands for the camera, and a closing comment from Sooyoung, who said, "I'm very happy that so many people skillfully cover our dances. It's to the point where we want them to dance in place of us when we catch a cold or are not feeling well. We are moved from such perfect dances. Please support us in the future, and please submit many entries."
Check out Girls' Generation's appearance on "Nico Nico Douga" below.
Source:
zuc00564@YouTube.com
Written by: bhost909@soshified
Contributor: redsunset@soshified
Edited by: moonrise31@soshified, Akino_Makoto@soshified
Have a news item that you think Soshified should know about? Leave us a tip or e-mail us at tip@soshified.com.
Follow us on Twitter: http://twitter.com/soshified for the latest on Girls' Generation.