Videos
Taeyeon Calls Kim Bumsoo's Radio Show
On September 3rd, Taeyeon made a surprise phone call to Kim Bumsoo's new radio show. Kim Bumsoo initially didn't know who he was talking to, but once Taeyeon introduced herself, he was able to discuss with her various topics that included being in adjacent studios at MBC and Taeyeon guest starring once on Kim Bumsoo's old radio show. The translated dialogue from Taeyeon's phone call can be found in the video's description.
Sooyoung and Kim Seungwoo Interviewed About "The 3rd Hospital"
Sooyoung and her co-star in "The 3rd Hospital", Kim Seungwoo, took part in a short interview and discussed their experiences and difficulties while filming for the medical drama. Sooyoung recounted that she initially thought that she was a burden to her sunbae actors, but because of their continuous care and encouragement, she was finally able to act comfortably. Additionally, Sooyoung talked about her difficulties learning the viola. Seungwoo went on to joke that the most important thing in their drama that other dramas do not have is that Sooyoung is appearing.
"Syndra the Dark" Champion with "Hoot" Choreography Released for League of Legends
Video game developer Riot Games recently released a new champion for their popular online game, "League of Legends". The champion, called "Syndra the Dark", has a dance animation that mimics Girls' Generation's choreography from "Hoot".
"The 3rd Hospital" Uploads Additional Video of Sharing Project
"The 3rd Hospital" released another video for its sharing project campaign, which is sponsored by Happy Energy. Autographed t-shirts from the campaign will be auctioned off, and the proceeds will be donated to the project. The campaign will be raising money for cancer patients who are in need of medical care. The first sharing project video can be found here.
Seohyun Ranked Second in a Poll for Artists Who Are Thought to Be Bookworms
Arirang's "Pops in Seoul" has ranked ten stars who are thought to be bookworms, and Seohyun placed second. Seohyun achieved second place due to her recent win on "100 Million Quiz Show", which she said was only possible because of all the books she has read. Seohyun was the first person in history to receive a perfect score on the show.
Endorsements
LLang Releases New Pictures of Sooyoung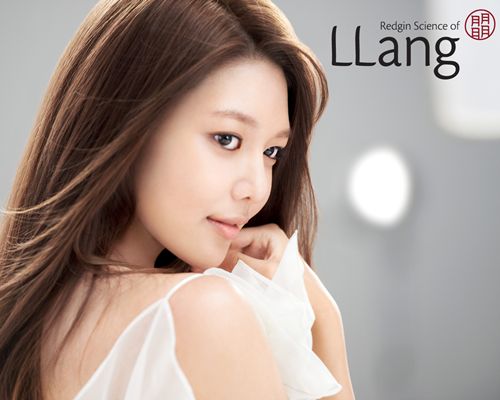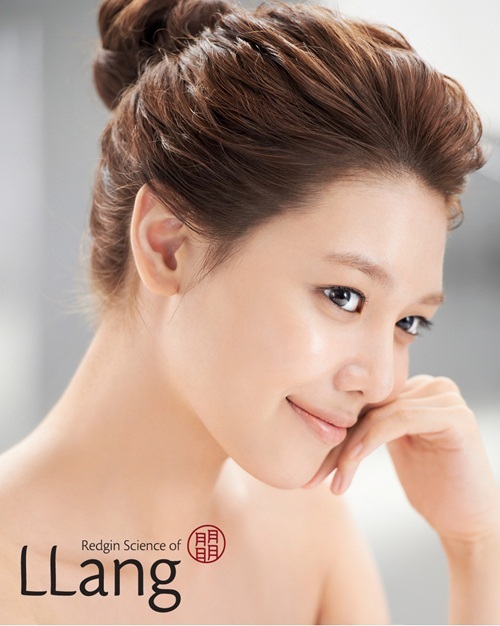 LLang released two new pictures of Sooyoung, each of which shows off her radiant beauty. LLang, a cosmetics brand, recently chose Sooyoung as their
official endorser
.
Girls' Generation Featured on Baby-G Billboard in Thailand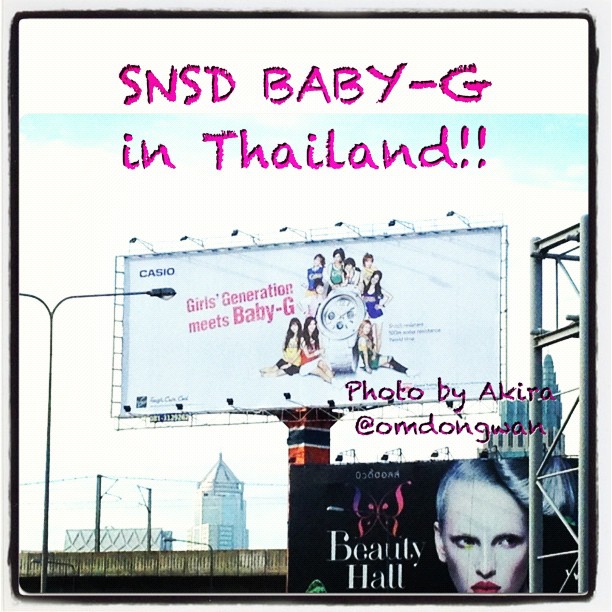 As Girls' Generation's promotions with Casio's Baby-G watches continue, their advertisements are showing up all around Asia. This billboard, featuring all nine of the girls, can be found in Thailand.
FreshLook Releases New Advertisement Featuring Yoona
FreshLook recently revealed an advertisement for its "Jet Black" and "Rich Brown" color contacts. In the ad, Yoona looks stunning as she shows off the effects of both products.
Others
Jessica Attends "2012 Fall/Winter Denim Collection" in Seoul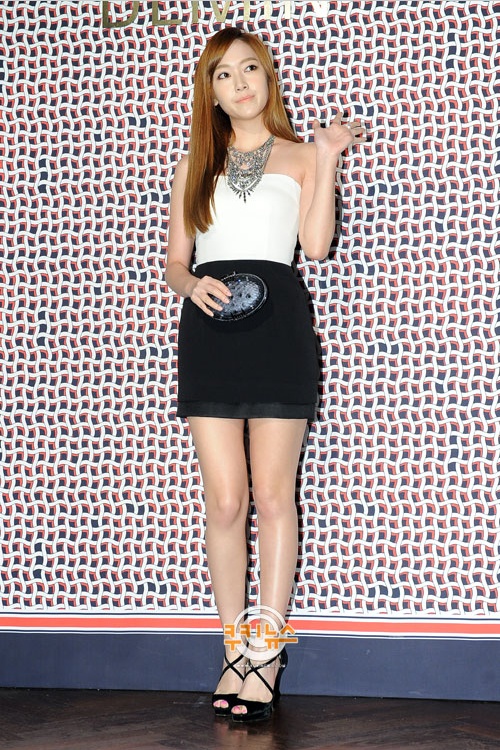 Jessica recently attended the "2012 Fall/Winter Denim Collection" held at CGV Cheongdam Cine City in Sinsa-dong, Seoul. She appeared at the event in a two-piece dress of contrasting black and white, matched with an elegant silver necklace. To view photos of her from the event, visit Soshified's
Photos Section
.
Actor Jung Kyungho Mentions Sooyoung in Interview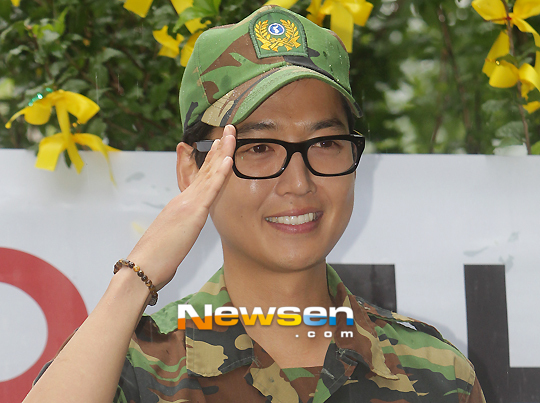 In a recent interview, Jung Kyungho, a Korean actor who enlisted in the army in November 2010, briefly discussed girl groups and their effects on soldiers. He said that Sooyoung was his "greatest energizer" while he was serving his country.
Girls' Generation Featured on the Cover of Singapore's "U Weekly" Magazine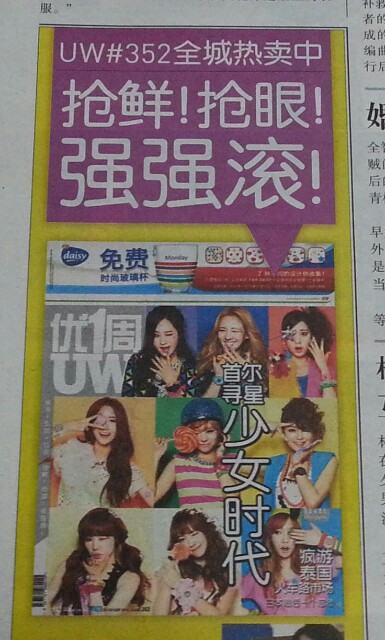 Girls' Generation was featured on the cover of the 352nd issue of Singapore's "U Weekly" magazine. The promotional photos seen on the cover are from Casio's "WINK" campaign for its Baby-G watches.
Yoona Attends FreshLook Illuminate "Rich Brown" Launching Event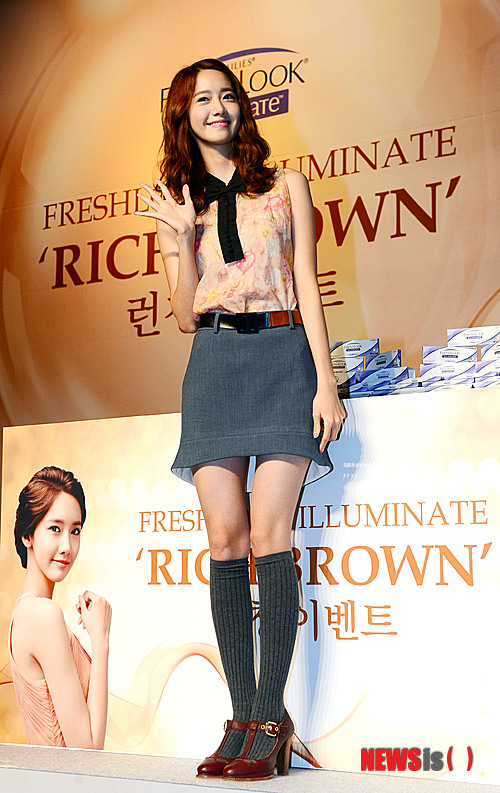 On September 5th, Yoona attended the "FreshLook Illuminate 'Rich Brown' Launching Event". Dressed in her own unique style, Yoona stood out clearly, especially as one of the official endorsers for FreshLook. To view the rest of the photos, check out Soshified's
Photos Section
.
Bean Pole Accessories Announces Fansign with Tiffany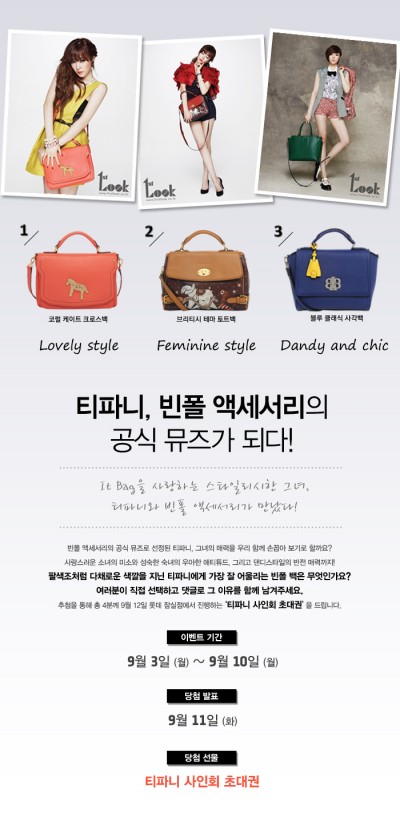 Bean Pole recently announced that four lucky winners will get the chance to meet Tiffany, who has become the official muse for the brand, at a fansign held at the Lotte Department Store branch in Jamsil-dong. In order to receive a ticket invitation, participants must pick one bag out of the three shown in the picture above that they think suits her the best and then give an explanation of their choice. Four winners will be revealed the day before the fansign, which will be held on September 12th. In addition, Bean Pole also announced that the first eighty individuals who purchase a $300 Bean Pole bag will receive an invitation to the fansign.
Girls' Generation Leaves Message on Japanese Mobile Fansite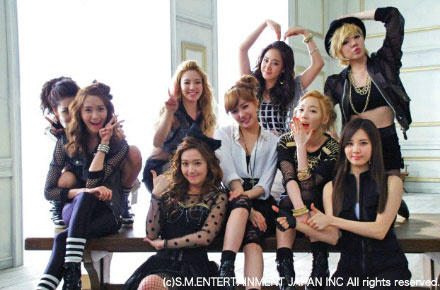 After releasing their music video for "All My Love Is For You", Girls' Generation left behind a message on their Japanese mobile fansite. They asked SONEs whether they had already watched the new music video and Yoona made a small joke, pointing out how Sooyoung was hiding behind her. At the end of the message, the girls expressed their eagerness to sing the song to everyone soon. You can read the full message in Soshified's
Translated Goodies Section
.
Sunny and Hyoyeon Attend "METROCITY 2012 F/W" Fashion Show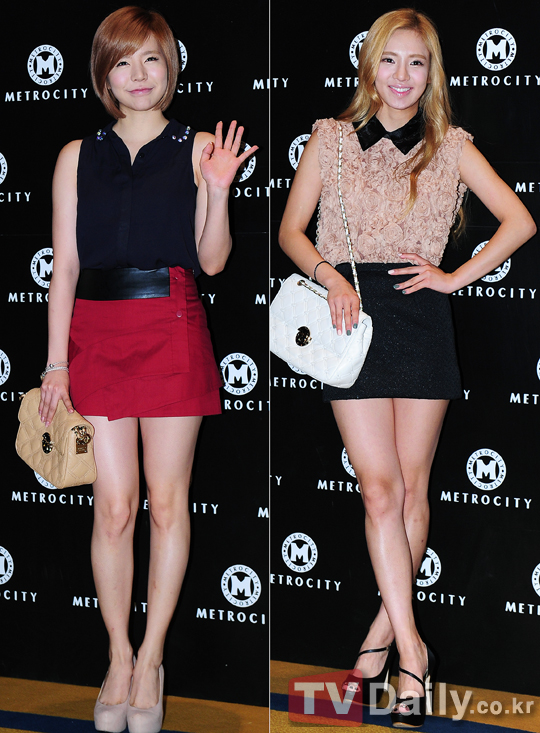 On September 7th, Sunny and Hyoyeon attended the "METROCITY 2012 F/W" fashion show. Both girls showed their own styles at the event, sporting designer bags in addition to their blouses and skirts. To view more photos from the event, check out Soshified's
Photos Section
.
Photos
Tiffany Uploads New UFOtown Profile Picture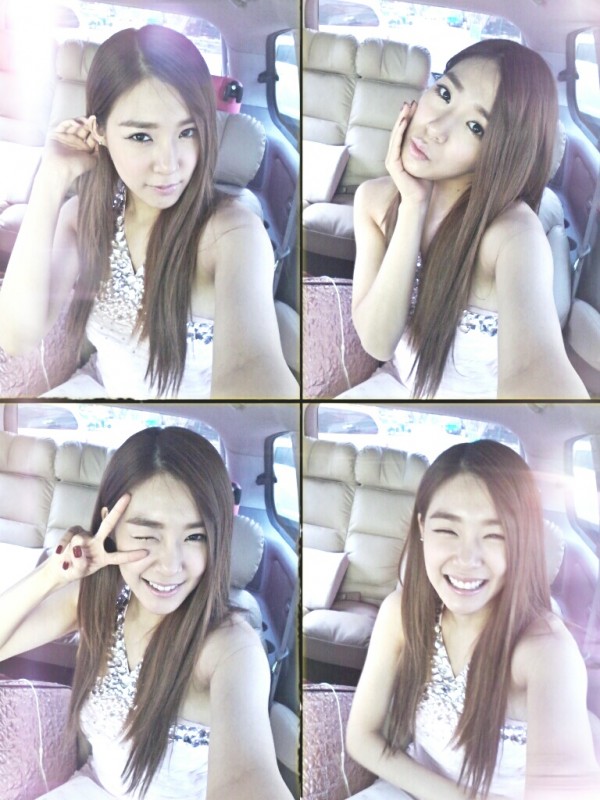 Tiffany has uploaded a new UFOtown profile picture. The picture consists of four frames with Tiffany posing cutely in each one.
Yoona Sponsors Power Energy Bands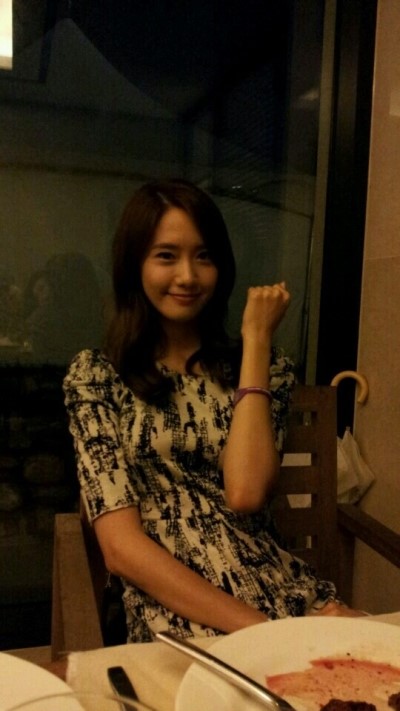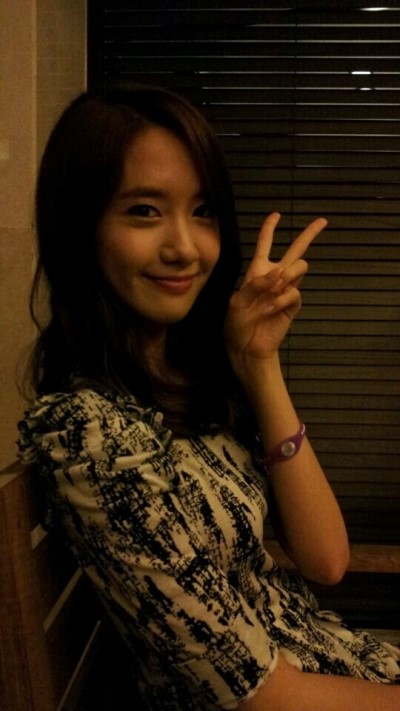 New sponsor photos featuring Yoona have recently surfaced online. Yoona is seen wearing Power Energy bands, which many other Korean athletes wear as well.
Taeyeon and Yoona Attend Gucci's "2013 SEOUL Artisan Corner" Event
On August 31st, Taeyeon and Yoona attended Gucci's "2013 SEOUL Artisan Corner". They appeared at the event clad in classy outfits and heels. For more pictures of Taeyeon and Yoona at the event, visit Soshified's Photo Section.
Yuri Attends Calvin Klein Opening Event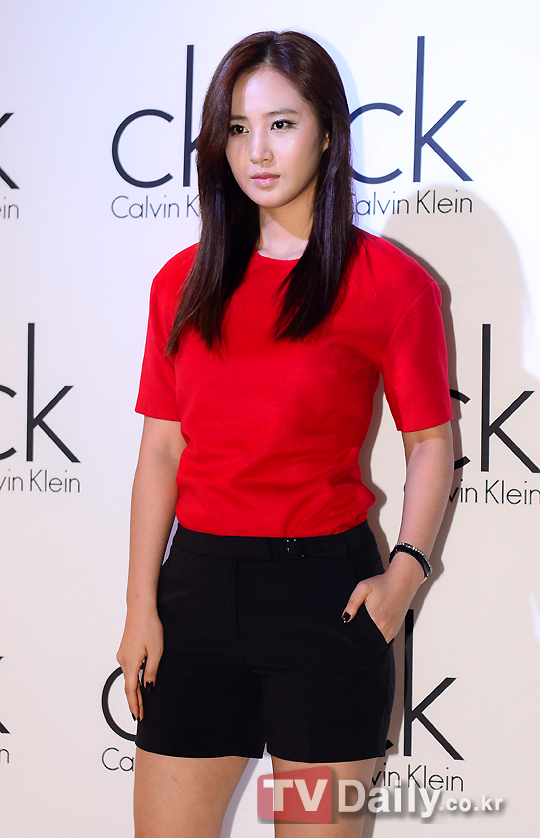 On September 6th, Yuri arrived at the opening event for Calvin Klein in Cheongdam-dong, Seoul. It is the first flagship Calvin Klein store to open in South Korea. To view more press pictures of Yuri from the event, check out Soshified's Photo Section.
Seohyun Attends "Vogue Fashion's Night Out, 2012 Seoul"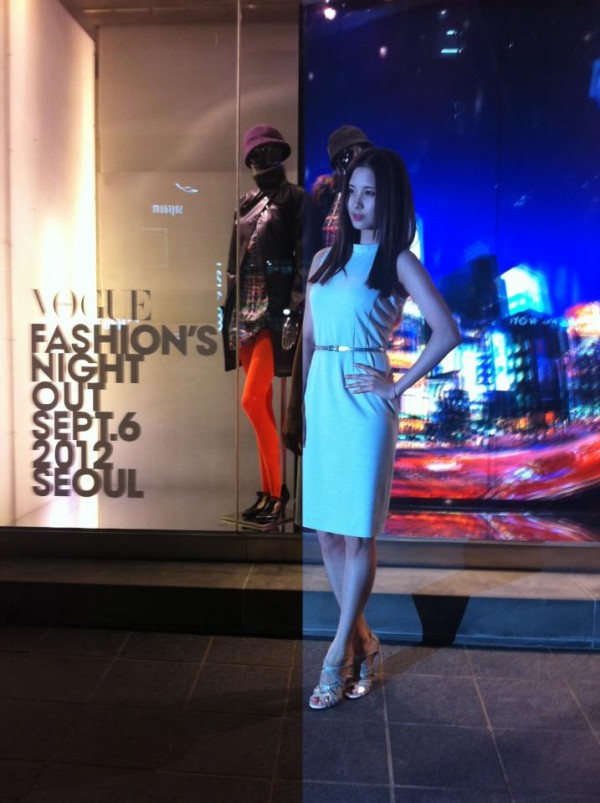 On September 6th, Seohyun attended "Vogue Fashion's Night Out, 2012 Seoul". Arriving in a stunning white dress and heels, Seohyun visited the Armani store to spend some time browsing and shopping. More photos from the event can be found in Soshified's
Photos Section
.
Yuri Uploads New UFOtown Profile Picture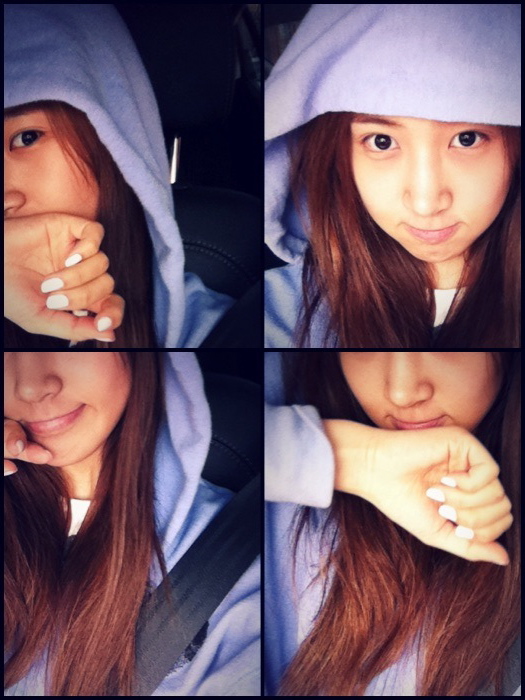 Yuri recently changed her UFOtown profile picture and uploaded a new four-framed photo for fans. This newest profile picture shows Yuri cutely pouting and smiling while wearing a hooded sweater and seat-belt.
Tiffany Poses for a Picture with Park Taehwan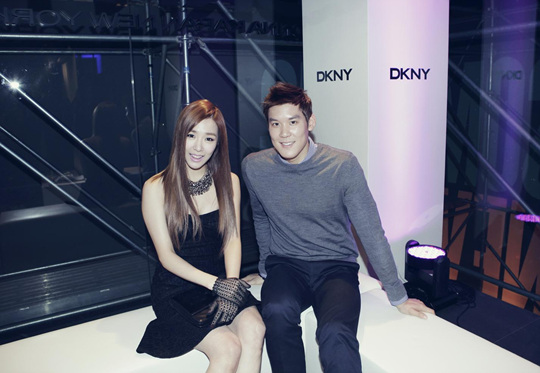 On August 31st, Tiffany posed for a picture with Park Taehwan, a Korean Olympic swimmer, at the "DKNY 2012 Fall/Winter Collection" afterparty. Since they are of the same age, the two friends greeted each other pleasantly and chatted. To view more pictures of Tiffany from last week's event, visit Soshified's Photo Section.
New Sets of Pictures
Mamonde CF BTS – Yuri1, Yuri2, Yuri3
THEFACESHOP – Seohyun1, Seohyun2, Seohyun3, Seohyun4, Seohyun5
SONE Picture/Video of the Week
Although Girls' Generation's new Japanese single was released just this week, fans have already taken the opportunity to make wonderful covers of this beautiful song. After watching this piano version of "All My Love Is For You", be sure to listen to a few more Girls' Generation covers from this talented SONE.
If you have any pictures or videos you'd like to submit for SONE Picture/Video of the Week, please feel free to do so by sending them to the Soshified Writing Team at tip@soshified.com or posting at the official SONE Picture/Video of the Week thread.
Sources: UFOtown 1, UFOtown 2, MoonSoshi9@YouTube.com, Newsen.com, wstarnews.hankyung.com, Girls' Generation Official Facebook, vodkaice9@Twitter.com, blog.naver.com, newsis.com, Bean Pole 1, Bean Pole 2, enews24@YouTube.com, Gucci Korea@Facebook.com, PianoKidz@YouTube.com, NeiLalwaysLeeT@YouTube.com, FreshLook, tvdaily.mk.co.kr, jyswork@Facebook.com, TV Daily, iheartsooyoung2@YouTube.com, arirangworld@YouTube.com, omdongwan@instagram.com, sonejapan.net, tvdaily.mk.co.kr(2), THEFACESHOP, Llang
Written by: kt9823@soshified, moonrise31@soshified, Best Served Soup@soshified, taengsoshi@soshified, m a k n a e@soshified, Akino_Makoto@soshified
Contributors: ch0sshi@soshified, SNSDDani@soshified, MoonSoshi9@soshified, minigiglo@soshified, SeraphKY@soshified
Have a news item that you think Soshified should know about? Leave us a tip or e-mail us at tip@soshified.com.
Follow us on Twitter: http://twitter.com/soshified for the latest on Girls' Generation.