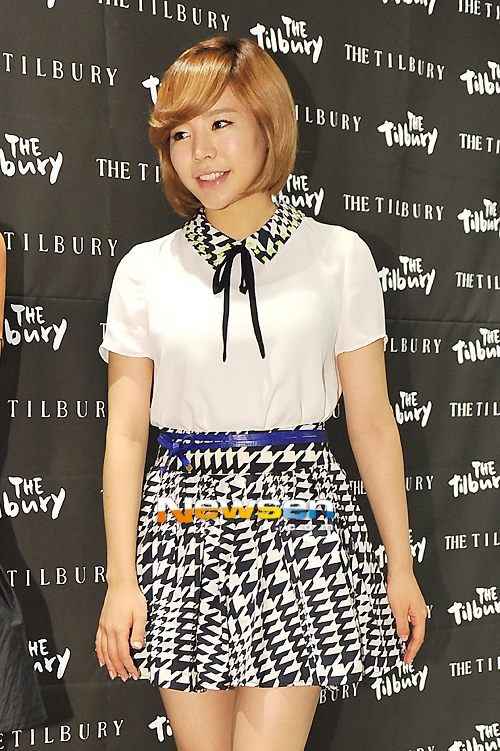 On September 19th, Jung Hyungdon, a host of "Weekly Idol" with Defconn, called Girls' Generation's Sunny during the show's recording for a short but humorous conversation over the phone. Sunny, immediately suspicious, answered the phone asking, "Is this for a show again?"
Hyungdon responded by saying, "No, I called because I wanted to hear your voice. What do you mean for a show?"
Still suspicious, Sunny asked, "What day is today? It's Wednesday. Is this for Infinite Challenge?" (Editor's note: Hyungdon is a regular cast member on another show called 'Infinite Challenge'.)
Changing the subject, Hyungdon asked Sunny what she was doing. She answered that she was staying at the dorm, saying, "We need a day to rest too."
The discussion then moved onto alcohol, with Hyungdon asking, "Did you have a drink last night?" After Sunny said that she hadn't, Hyungdon asked, "Why haven't you bought me liquor like you said you would when you balance your account?" (Editor's note: Hyungdon is referring to finances.) Sunny laughed, saying that she had promised him soju, not liquor, and told Hyungdon that she would come to buy him some if he came out to visit.
Still believing that Hyungdon had called her for a show, Sunny asked, "Why do you always call me during shows? Do you really not have any personal connections?"
Hyungdon answered, "You're my best friend", before finally admitting that they were recoding for "Weekly Idol", and said, "You're the greatest personal connection that I have, Soonkyu."
Later, Hyungdon asked Sunny when Girls' Generation's comeback would take place. She answered, "I think Girls' Generation might be able to comeback in Korea soon."
Finally, Sunny requested that Hyungdon include her name if good ranking categories, such as "An Idol I Want To Marry", were discussed on "Weekly Idol". (Editor's note: "Weekly Idol" often ranks idols according to certain categories, such as "Most Athletic" or "Best Voice".) Defconn also suggested, "Idol That Would Make A Good Wife".
The call ended with Hyungdon saying, "Let's have some soju when you balance your accounts."
Check out Sunny's phone call on "Weekly Idol" below.
Source:
cranberry515@YouTube.com
Translated by: ch0sshi@soshified
Edited by: bhost909@soshified
Have a news item that you think Soshified should know about? Leave us a tip or e-mail us at tip@soshified.com.
Follow us on Twitter: http://twitter.com/soshified for the latest on Girls' Generation.