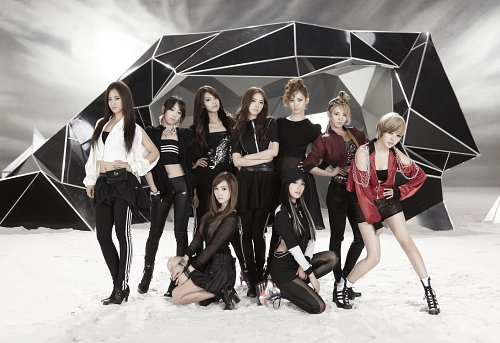 With the ever increasing international popularity of K-Pop, Girls' Generation has continued to accomplish many things, especially in the past year. Billboard discussed twenty of the top K-Pop moments in the past year, and out of the top twenty moments, Girls' Generation was featured in six of them, showing their role as a representative and leader of Hallyu. With sights on the global market, Girls' Generation's presence and influence were clearly felt in the eyes of Billboard.
The digital EP for "Twinkle" was a huge success for the Girls' Generation – TTS sub-unit, debuting at #126 on the Billboard 200, and as Billboard writes, "The feat becomes all the more impressive when you consider the set was released on a Saturday with no American promotion or even any tracks in the English language." The "Twinkle" EP became the highest ranking ever for a Korean artist on the Billboard 200 chart, while also placing on various other Billboard charts.
K-Pop and Girls' Generation have become widely popular in the Japanese market, and most recently, Girls' Generation released their hit single, "PAPARAZZI", earning the number one spot on Billboard's Japan Hot 100 chart. Earlier in the past year, Girls' Generation's self-titled debut Japanese album, "Girls' Generation", won "Best Album of the Year" at the 2012 MTV Video Music Awards Japan, edging out international superstars Lady Gaga and Coldplay, fellow Korean girl group KARA, and popular Japanese singer JUJU. Billboard also recently gave a special report on Girls' Generation's various accomplishments in Japan.
For every successful single, almost certainly there is a music video that helped bring about that success. Billboard praised the music videos that broke out of the box, saying, "Most recently, with 'PAPARAZZI', came a near 7-minute music video that was simpler, yet still just as successful." SM Entertainment also released three more music video versions of "PAPARAZZI": dance, close-up, and gold versions.
On May 21st, a major step was taken to spread the global popularity of K-Pop. MBC, Google, and YouTube came together to live broadcast a special concert to over 100,000 viewers online as well as having a live audience at the show. Billboard noted that although there were multiple performers and Girls' Generation did not close the show, "online attendees may have spoken the loudest with the night's highest viewership (115,000) during Girls' Generation. Perhaps, appropriate though, as the girls do have the most-watched K-Pop videos of all-time on the site with the 82 million views."
With the globalization of K-Pop, artists from all around the world wanted to work with Girls' Generation. "Some of the Western World's biggest names in the industry collaborated with some of K-Pop's biggest names this year. Girls' Generation saw EDM genius Steve Aoki remix their hit single 'Mr. Taxi' and hitmakers The Cataracs and Dev created a half-English, half-Japanese dubstep version of 'Bad Girl'. Snoop Dogg also lent several bars for a remix of 'The Boys' which appeared on their Interscope-backed album of the same name." With SM Entertainment, Nayutawave (Universal Music Group) in Japan, Interscope Records in the United States, and Polydor Records in France, Girls' Generation continues to lead K-pop globalization.
To the international popularity of Girls' Generation and K-Pop, the group appeared on popular shows in the United States and France to promote their comeback single from last year, "The Boys". Billboard writes, "The girls took their impressive stage performance to 'The Late Show with David Letterman', 'Live! With Kelly', and France's 'Le Grand Journal'. The ninesome nailed each performance, making its fanbase (known as SONEs) proud. An English language album is said to be coming this year, which means that we could be seeing SNSD back on U.S. television screens in the near future." Put in new environments and circumstances, Girls' Generation performed spectacularly for each show, impressing resident SONEs and introducing themselves to new fans worldwide.
As K-Pop continues to gain global popularity, Girls' Generation remains one of the leaders of Hallyu. With support from fans all around the world, the power of technology and social media, and well-earned respect of the international music industries, Girls' Generation figures to be a major part in the K-Pop equation for years to come.
Source: Billboard.com, SMTOWN@YouTube.com, MBCkpop@YouTube.com, kfashions@YouTube.com
Written by: kt9823@soshified
Edited by: MoonSoshi9@soshified
Have a news item that you think Soshified should know about? Leave us a tip or e-mail us at tip@soshified.com.
Follow us on Twitter: http://twitter.com/soshified for the latest on Girls' Generation.