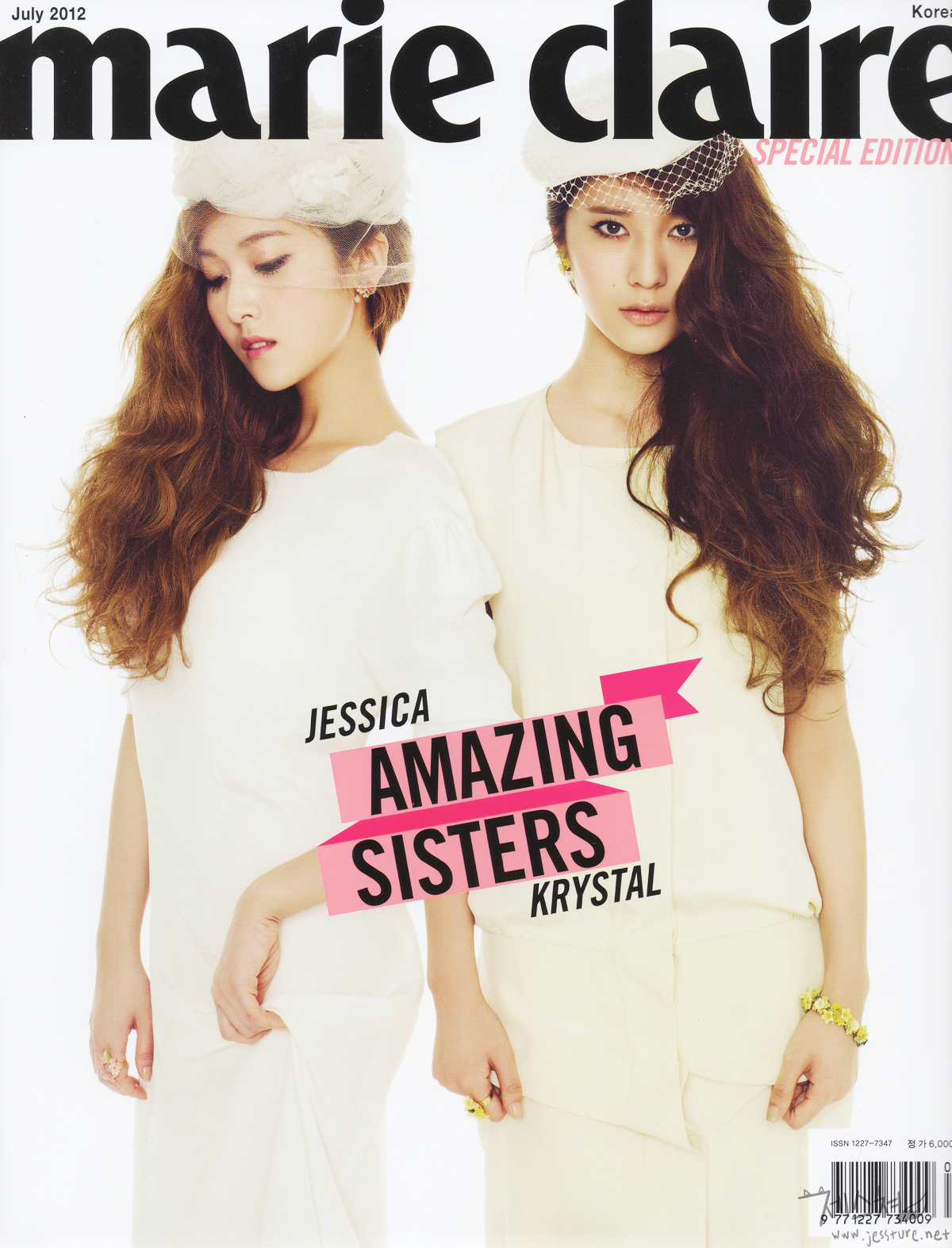 Jessica and her sister, Krystal from f(x), recently took part in a photoshoot and were interviewed for the July issue of "Marie Claire" magazine, in which they discussed their loving relationship.
Girls' Generation's Jessica and f(x)'s Krystal being particularly close sisters is a fact that everyone knows. That skinship between family members will decrease is a universal fact for Korean families, but the two pretty sisters leaning against each other's shoulders, hugging, and kissing each other on the cheeks doesn't look awkward. It's an unimaginable thing for me, who would run away when bumping into an oppa I went to middle school with in the hallway, but the two girls' affection is loveable to the point where it makes me smile like a mother would.
Krystal: I normally don't have any aegyo, and I have a blunt personality. I'm only like this to my sister. But if I do aegyo, my sister says I'm annoying and shoos me away.
Jessica: I really don't like it, but she comes trying to give me a kiss, hugging me, and she does this until I accept it. Still, I think expressing feelings between family is good.
If Jessica and Krystal were to fight, who would win?
Krystal: Of course my sister would. Because there is a pretty big age gap, I was controlled by force when we were younger.
Jessica: I lose when it comes to strength now, so I win using skills.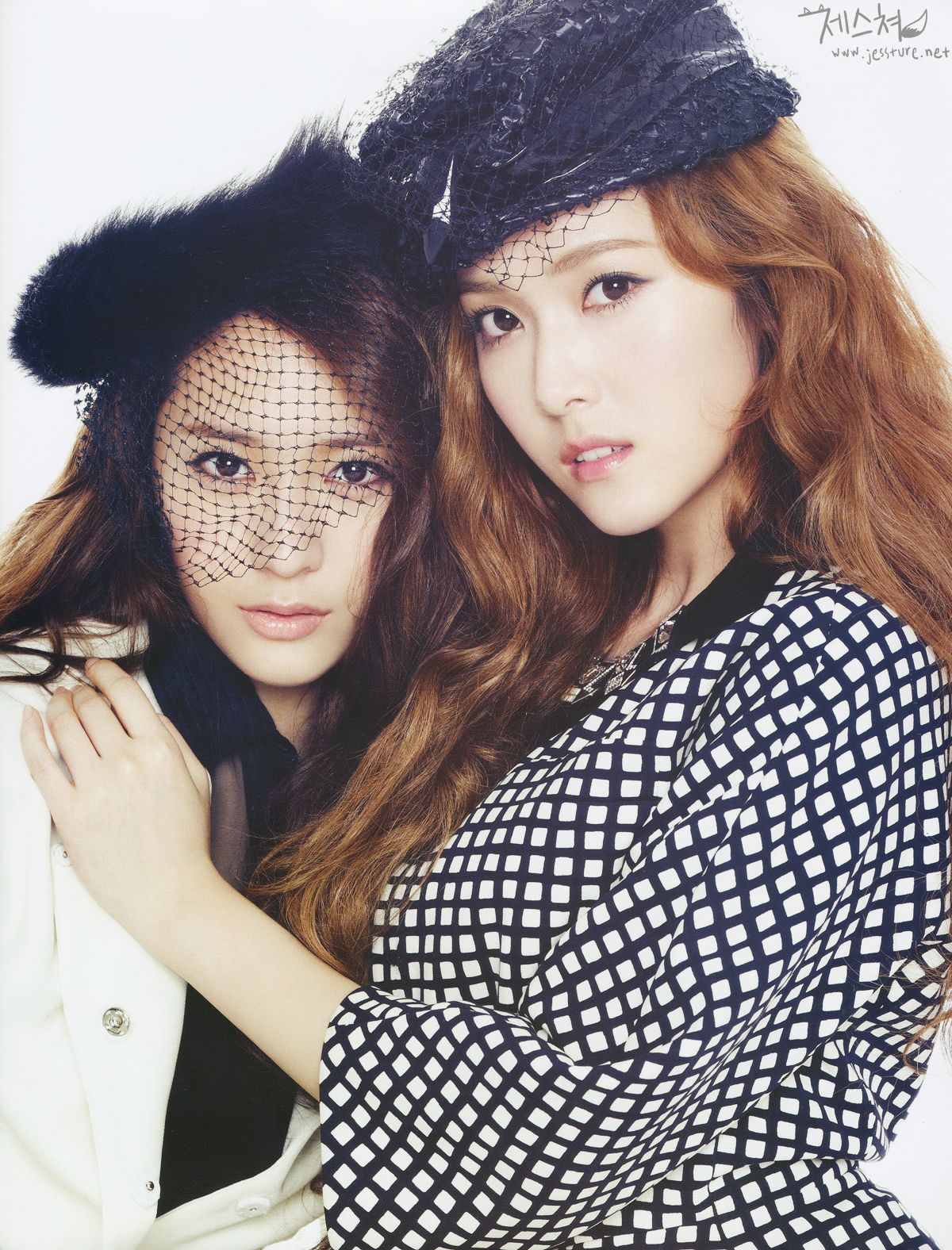 Then if both of you end up liking the same guy, who would yield?
Jessica: That probably wouldn't happen, but I think the types of guys we like are similar. If we see a guy who dresses well, we'd bicker saying, 'He's my style.' But Soojung-ah (Editor's note: Krystal's Korean name is Soojung), I'm the u.n.n.i.e.
Looking at the sisters walk into the studio together, hair wet and smelling of shampoo, it made me wonder what it would be like having a sister. Washing together, wearing each other's clothes, and then fighting occasionally. I heard that an older sister or younger sister's presence becomes more apparent when you get older.
Jessica: Because we always played together, I get bored when she's not around. However, I didn't really like her when she was first born.
Krystal: Oh, this is the first time I've heard about this! Why?
Jessica: Soojung-ah, unnie (Editor's note: Jessica is referring to herself) didn't really welcome you at first. I was in preschool at the time, so I remember it all. My mom told me I would be getting a younger sibling. I felt a little anticipation at the time. It also seemed weird, and because I was always the youngest amongst relatives, I didn't really like the idea of getting a younger sibling. I think I just experienced feelings that anyone else would.
Krystal: Whenever we fought while growing up, mom would always side with you.
Jessica: No, mom would side with you. Always calling you 'My baby, my baby'.
Krystal: She was on my side when you were around and would be on your side in front of me.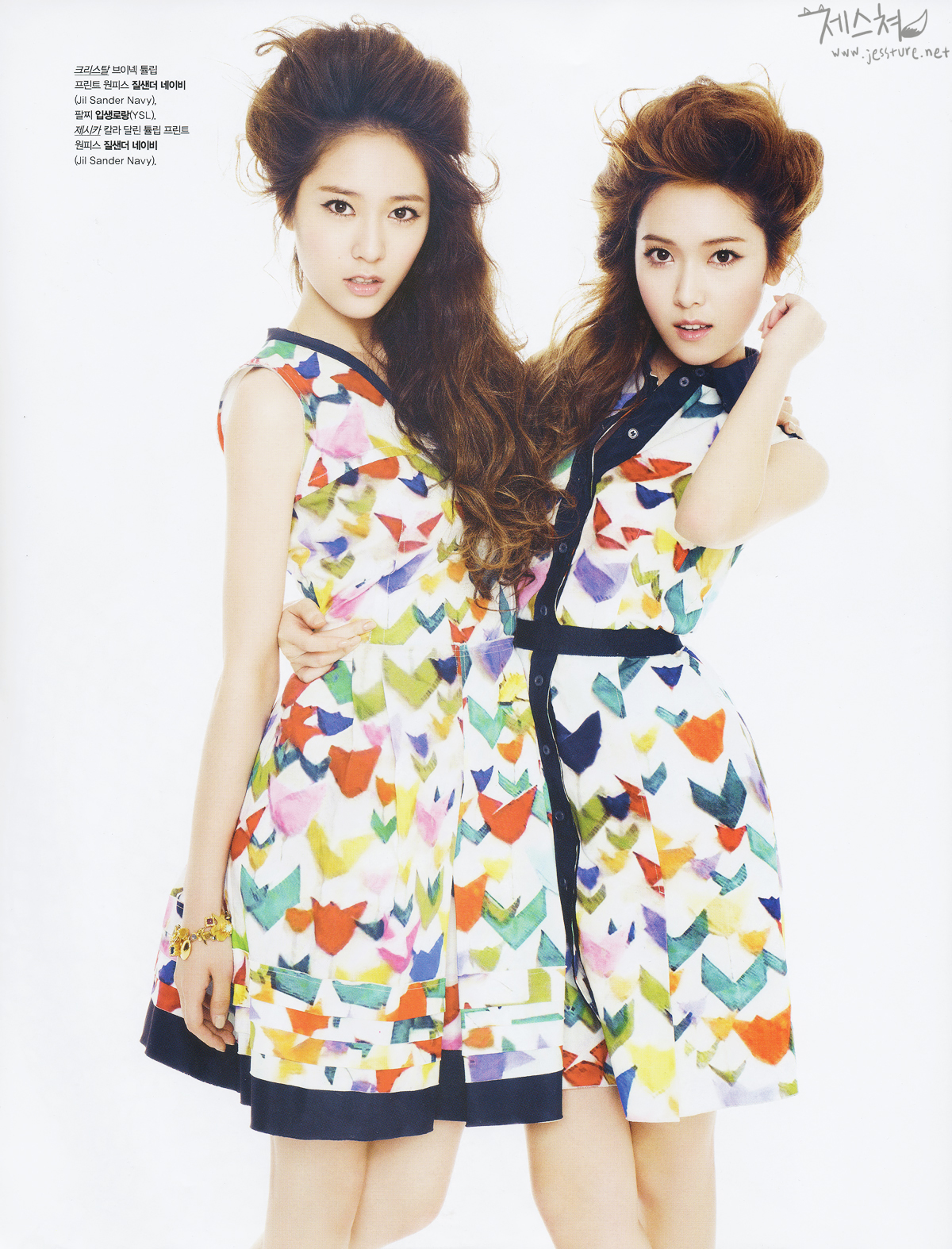 Listening to these ordinary sisters chatting, I keep forgetting that these two girls are Girls' Generation's Jessica and f(x)'s Krystal. As you may know, these two are great sisters who are living as members of different idol groups, the heart of the powerful Hallyu, fashion icons, and rookie actresses (their mother must be so proud).
Jessica: Before being casted, the two of us had never thought about becoming singers. Both of us aren't the types to run towards something we want to do, but rather will start something that comes to us as fate. And if I'm going to start this, I'm going to do it well. That's my tendency. I didn't have a dream when I was cast. This 'something' started when I didn't have a dream.
Krystal: While we were walking around the mall, we looked behind us and someone asked us, 'Where is your mom?'
And like that, the two ended up spending most of their time before their 20's in SMTOWN. It was probably a difficult time, but fortunately, they remember it as fun, dynamic, and unforgettable days.
Soon, the film "I AM", which has SMTOWN's artists as the main characters, will be released.
Jessica: I was surprised. I almost wasn't aware that it was being filmed, but they had recorded many moments. Memories fade away. It's a relief there are records.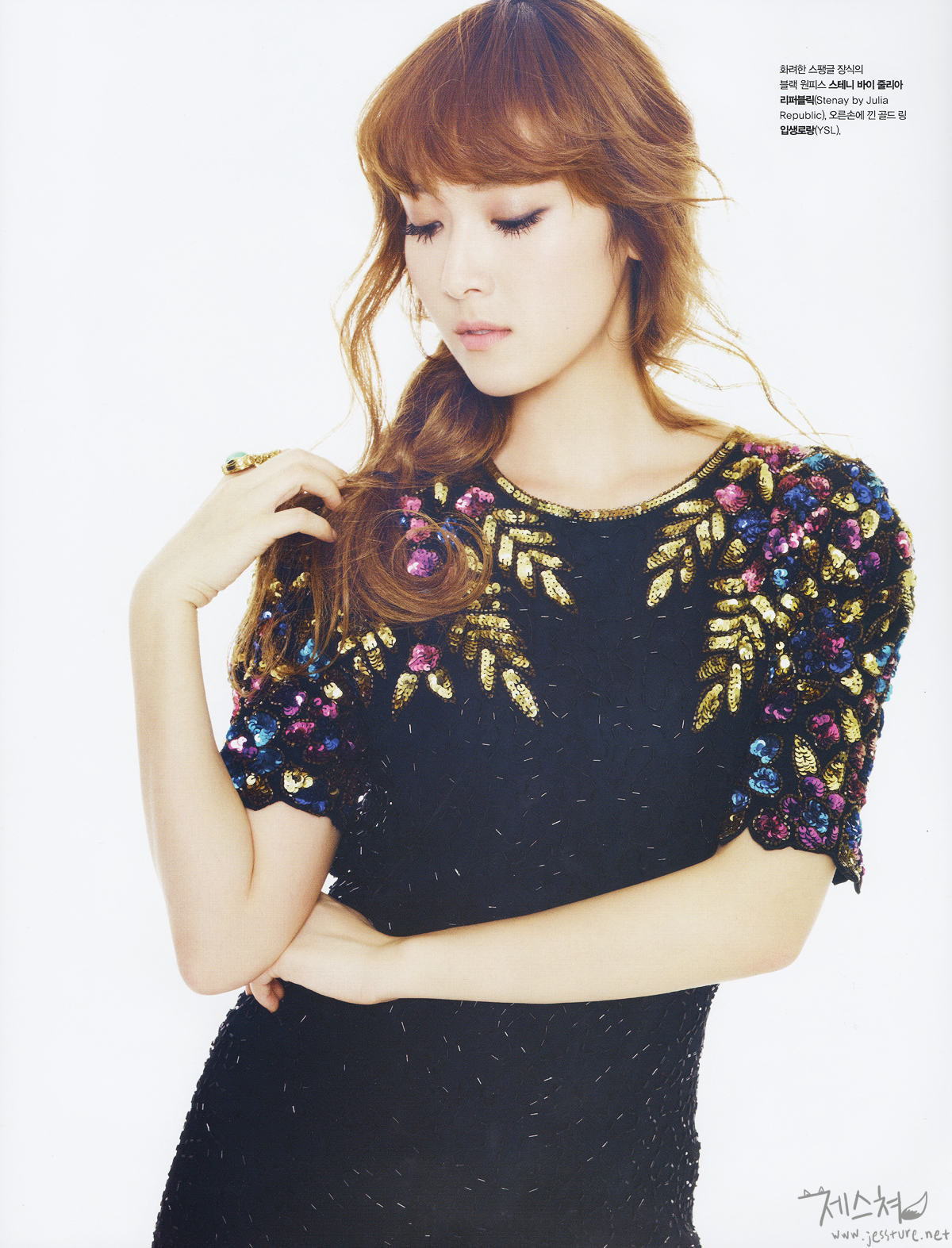 Along with Jessica and Krystal's respective groups, Girls' Generation and f(x), other SMTOWN artists such as Kangta, BoA, TVXQ, Super Junior, and SHINee are shown from their trainee days to when they took the stage at Madison Square Garden in New York as a documentary. With the upcoming release, the poster with every artist as the main character was revealed. Looking at Jessica's poster, it contains the message, "The seven years spent as a trainee flew by like a panorama." Also, Krystal's poster reads, "I like being me."
If you're a fan, you probably know already. Jessica and Krystal aren't simply pretty, sweet, and cheerful girls. Even while talking about sushi or cupcakes, when work begins, they focus to the point where it's scary, they say what they need to say, and they look straight at your eyes when talking to you. They remind me of the cheerful girls with strong egos in Jane Austen's novels.
Jessica: Because I'm the type who expresses my opinions honestly, my first impression seems to be taken sharply. I've caused misunderstandings a lot, but I don't try to change myself because of that. Isn't being honest better than being fake? I just think they'll get around to understanding my honesty some day.
Krystal: Guys don't really like me. Guys like girls that are kind and innocent. I used to be innocent (laughs). Now I'm not. Plus, it's not something I want.
For instance, rather than Jessica and Krystal being "Korea's little sisters" that everyone loves, I think girls with mysterious and eccentric moods, like Kaya Scodelario, are more appealing. They have started to become people who think of themselves as appealing. On stage and on TV, you didn't think they are sisters who look alike, but you can't get rid of the fact that they're sisters once you see them on stage together.
Krystal: I think little sisters can't help but look like their older sister.
The similar charm between the two comes from their being carefree. It might even be in their genes.
Jessica: We both had that type of tendency when we were younger. But because I'm active as Girls' Generation, there are just nine girls. Being amongst them, there are things that I have to match to a certain extent with them. On the other hand, there are less f(x) members, and because there are foreign members, I think Krystal could remain carefree while promoting.
These girls probably aren't always Girls' Generation's Jessica and f(x)'s Krystal. However, regardless of which path they walk down, there doesn't seem to be a high possibility for them to become the trouble member. The things these girls have done thus far, any tiring, heart pounding, and unbelievable experiences have created an aura that can be felt from these special sisters.
Jessica: Things have been working out the way I wanted them to. When we debuted, I wanted to become number one, and then I wanted to get the rookie award, and it's still amazing how each thing actually comes true, one by one. I also thought of it as luck. There are already things I've started, such as acting and promoting overseas. The board we are on has become surprisingly larger. I wish I could show all my capabilities and charms, if they even exist. I hope I can keep having fun working and just continue to enjoy it.
Jessica and Krystal have also performed on stage together numerous times. The sisters performed Ke$ha's "Tik Tok" at the SMTOWN concerts in Tokyo and Los Angeles, as well as Katy Perry's "California Gurls".
Krystal: Our opinions didn't even clash when choosing the songs. After deciding on having a joint performance, the thing we both thought of at the same time was that, right?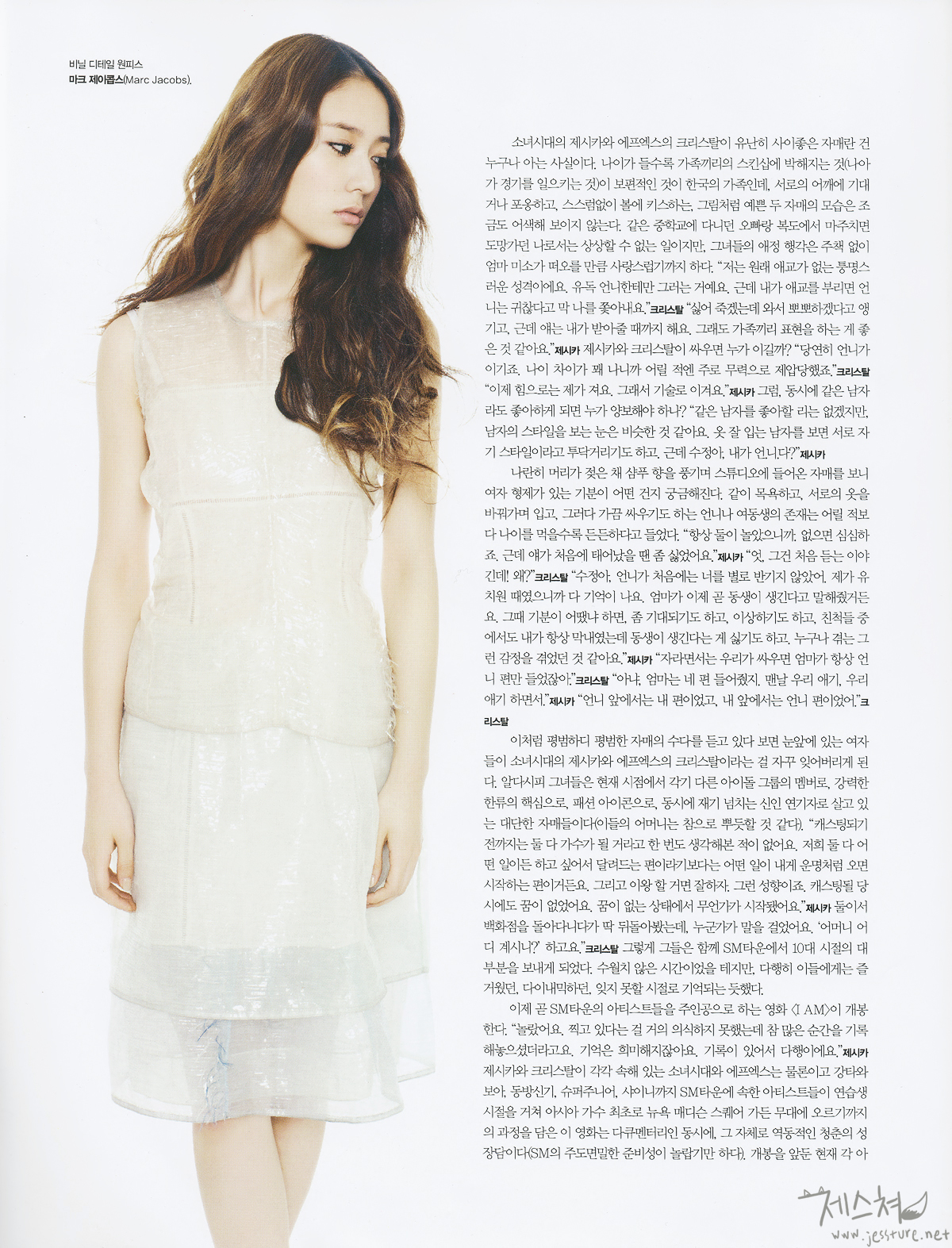 Since they were little, they went wild over the same musicians, collected CDs together, and eventually worked in the same area of work, so they have lots of things to talk about whenever they meet. Even if they can't spend a lot of time together as they're both busy, they always have their own chatroom on "KakaoTalk", and they talk about anything in it. When will we be able to see the two performing together again?
Jessica: A long time ago, two sisters promoted as singers together as 'something-something Sisters', right? Because there aren't any teams like that nowadays, I think it would be really unique if we were to do it. Plus, I want to show an energy that only comes out when we're together.
Now, Girls' Generation members and f(x) members combined creates a much larger number, but the energy shared by real sisters seems to be different. Then again, as the two share countless life experiences, it is obvious that nobody can invade their territory.
Jessica: Not too long ago, we went to where we were born, San Francisco. We went because of work. But still, I made time and ate lunch with Soojung, and because we were in my hometown, it felt nice. After debuting, we haven't been able to go on vacations together because of the busy schedules. We went on a lot of trips with our mom and dad when we were younger. Since we lived on the West Coast, we vacationed a lot in that area. But we went up north to Canada once, and it was really nice then too.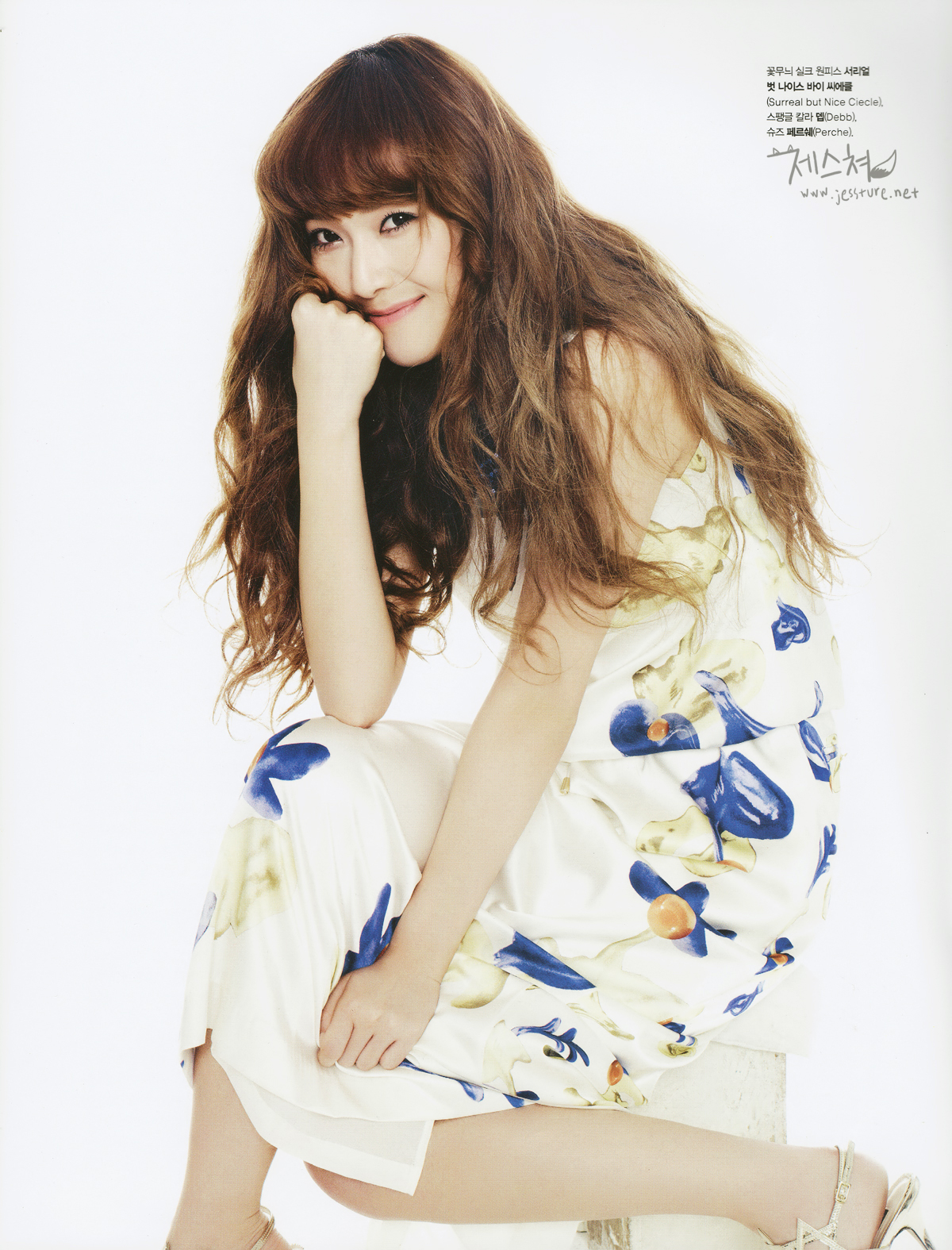 The two are sisters with a five year age difference. Next year, Krystal finally becomes an adult too. When I asked what the first thing she wanted to do as an adult was, there was a short pause.
Jessica: Krystal doesn't seem to have much interest in becoming an adult (laughs). Once, my members and Krystal watched an R-rated movie at our dorm. It wasn't a really a weird movie either. It was 'American Pie'. But Krystal went crazy, causing a fuss. I guess she thought she was doing something wrong.
Krystal: I think the unnies are really weird!
As a response, Krystal also revealed a secret about her sister. She said that the arrogant and chic Jessica's room is a princess-y, pink-filled room.
Krystal: My room is absolutely not like my sister's room!
Jessica: My room has a large mirror, and there is a lot of pink (laughs). On days I have off, I turn music on in my room and don't get out of bed all day.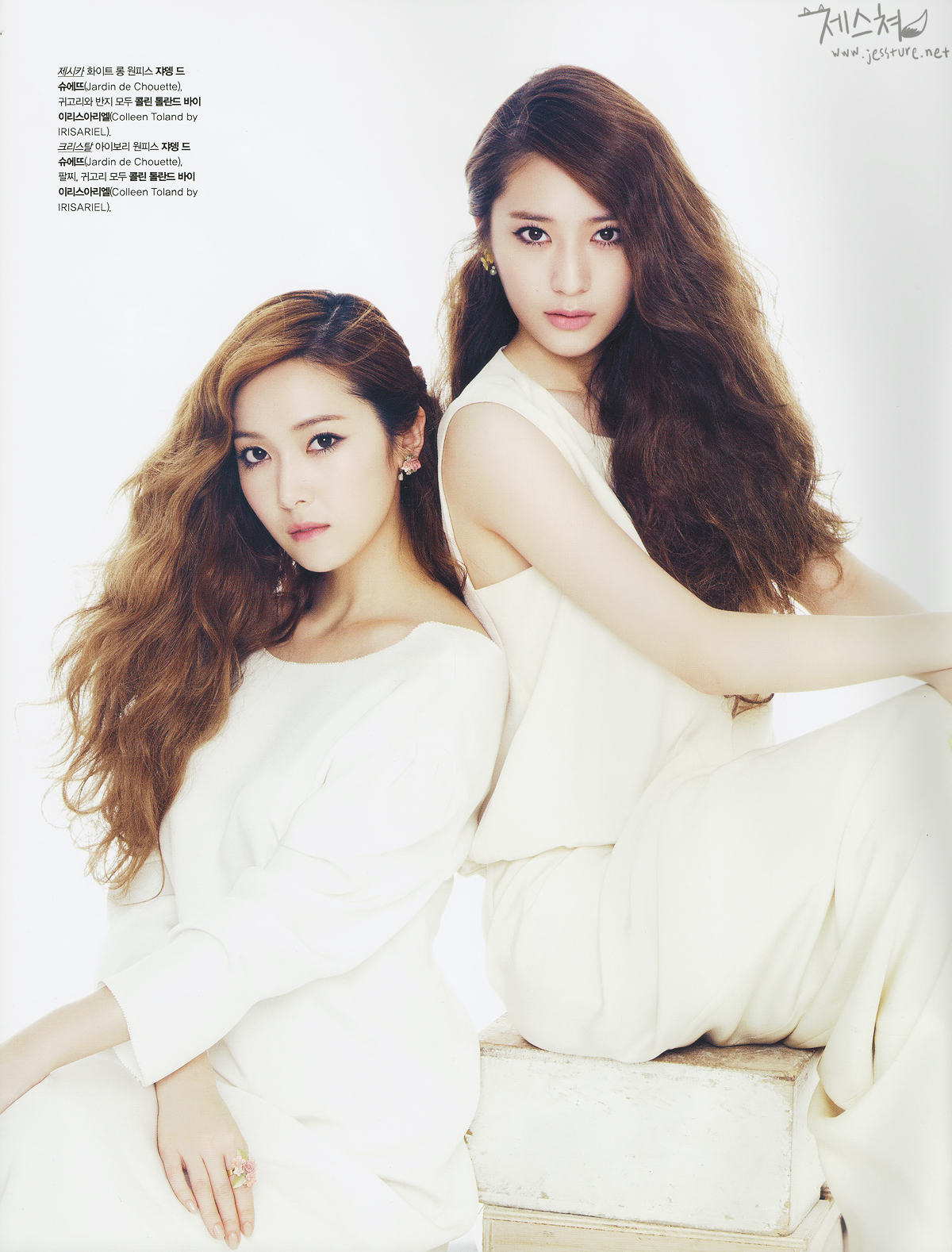 When doing photoshoots with other idol groups, I couldn't help but notice competition between members wanting to look prettier than the member next to me, or wanting to stand in a better place, as they are things any normal person would feel. However, that type of atmosphere was not present on the set with Jessica and Krystal. Even though it was one of those days we were pressed on time, and it being a tiring shoot, Jessica and Krystal kept whispering to each other, laughing, and cheering each other on like that. However, while they are sisters, they are also another idol group's member and artists under the same company. Have they ever felt competition towards one another?
Krystal: The type of music Girls' Generation does and the type f(x) does is different. There's no reason to, and we just don't feel competition.
The relationship sisters have might be a lot more special than I thought. The reason why I thought about this on this day was because of an answer Jessica gave. I asked when they look the best. I expected the answer to be when they're on stage, dancing under the spotlight, but the answer I received was quite different.
Jessica: Hm, when she's sleeping. Because our schedules are different, we don't see each other often, and so when I get home from work, I look in her room to see if she's doing well. Sometimes I lay on the bed next to Krystal sleeping before leaving the room [to let her sleep]. She looks the prettiest when she's comfortable, not thinking or doing anything, because her nerves are probably on edge, and she's stressed while working.
Her words were correct. It's more reassuring knowing when your family looks most relaxed over when they look their best. Jessica and Krystal are colleagues that give and receive inspiration from one another as artists, supporters who cheer each other on endlessly, and the closest friends in the entire universe, and I'm jealous of them.
Sources: Marie Claire Magazine, DC Jessica Gallery
Scans by: Jessture.net
Translated by: ch0sshi@soshified
Edited by: bhost909@soshified, michaelroni@soshified
Have a news item that you think Soshified should know about? Leave us a tip or e-mail us at tip@soshified.com.
Follow us on Twitter: http://twitter.com/soshified for the latest on Girls' Generation.