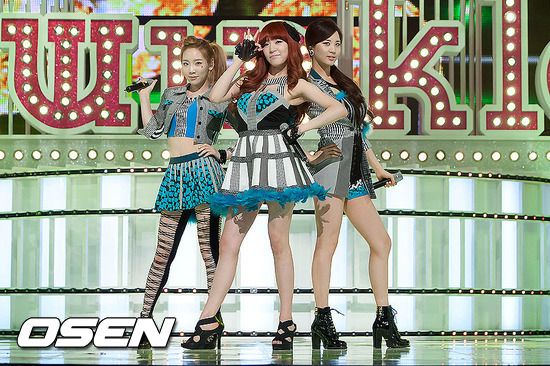 Girls' Generation's first subunit group, Girls' Generation – TTS, will be completing their month-long promotion cycle on a high note by setting an unprecedented record.
On April 30th, the subunit group Girls' Generation – TTS was created with members Taeyeon, Tiffany and Seohyun and their title song "Twinkle". For every stage, Girls' Generation – TTS have put on cute and confident performances, but will be ending their month-long promotions on SBS's "Inkigayo" on June 3rd.
As the first subunit group to come out of Girls' Generation, they have garnered much attention since the beginning. The simple name of "TaeTiSeo" also stuck to the general public easily and showed off Girls' Generation's presence.
Is that the reason? They were different from the moment they appeared. Girls' Generation – TTS released their songs not only in Korea, but also overseas simultaneously. As soon as "Twinkle" was revealed, it ranked fourth on the US iTunes album chart. This is the greatest record set by a Korean artist and also a first for a subunit group.
They also set another new record by ranking in second on the US iTunes pop album chart right behind Adele, a famous English pop star. Furthermore, they also had their names listed on the higher ends of album charts in Japan, Canada, Australia, England, Spain, and other countries.
There was no exception in Korea. As soon as "Twinkle" went on sale, it took the number one spot on several Korean music sites, such as MelOn and Naver Music.
Once Girls' Generation – TTS's official promotions began, there was a strong positive response both online and offline. With their key dance move where they wiggle their fingers under their chins, unwavering singing, and their doll-like looks, the girls received fervent support from fans.
This was quickly seen through music show rankings. Girls' Generation – TTS clinched first place with "Twinkle" for three weeks on SBS's "Inkigayo", KBS's "Music Bank", Mnet's "MCountdown", and MBC's "Show Champion". While there have been many subunit groups from other idol groups before, this was the first time any has gained a triple crown on every single music program on each broadcasting station.
Girls' Generation – TTS, who admitted their legs were shaking during their first performance, said, "Girls' Generation's charismatic choreography was important, but I think we can put more emphasis on our singing through this promotion cycle. The company also supported us, and other members joked about being jealous too."
As a result of the success that Girls' Generation – TTS showed as the first subunit group, it doesn't seem impossible for more and different subunits to come out of Girls' Generation.
For their last week of promotions, there will be special appearances by other members of Girls' Generation. Sooyoung will perform "OMG" with Girls' Generation – TTS on MBC's "Music Core", and Hyoyeon will perform the same song with Girls' Generation – TTS on SBS's "Inkigayo".
Source: Chosun News
Translated by: ch0sshi@soshified
Edited by: NeonCyro@soshified, bhost909@soshified
Have a news item that you think Soshified should know about? Leave us a tip or e-mail us at tip@soshified.com.
Follow us on Twitter: http://twitter.com/soshified for the latest on Girls' Generation.