Girls' Generation's first subunit mini-album, Girls' Generation – TTS's "Twinkle", was recently released to wide acclaim. The title track was an instant hit, getting an all-kill on the Korean charts within hours of release, and the album itself set records on the US iTunes and Billboard charts for a Korean artist. This month,
MoonSoshi9
and
SeraphKY
will take a look at "Twinkle" and see how Taeyeon, Tiffany, and Seohyun explored a variety of new styles as Girls' Generation – TTS.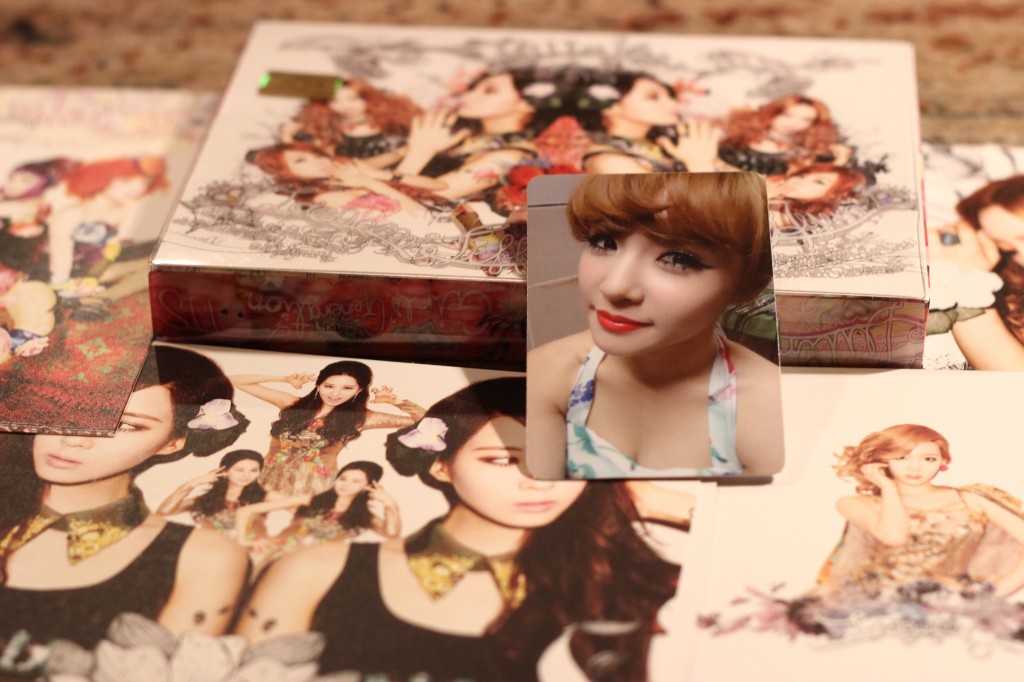 MoonSoshi9
The "Twinkle" concept pictures were certainly…interesting, to say the least. Say what you will about the eclectic and colorful outfits and makeup, but it sure makes for a visually striking album. The mini-album comes with sixteen postcards with pictures of Taeyeon, Tiffany, and Seohyun in their crazy costumes, along with a photo card and a poster. Just like "The Boys", you get a lot of goodies along with the CD.
As for the music itself, Girls' Generation – TTS is a breath of fresh air. "Twinkle" is one of Girls' Generation's best albums to date. Every song has its own appeal, whether it's from "Twinkle"'s funky sound and soaring ad-libs, to "Love Sick"'s smooth R&B flow. The live band sound for most of the songs fits so well with Taeyeon, Tiffany, and Seohyun's voices. "Checkmate" in particular gives off a strong vibe, and the drums and guitar on the track really bring out the personality of the song and the girls' singing. "Library" is an insanely fun song that gets stuck in your head almost immediately, while "Good-bye, Hello" continues the fun in a more light-hearted, bouncy style. Tiffany's favorite song on the album, "OMG", is reminiscent of "Chocolate Love" with a really cool chord progression. The way Tiffany descends with "Oh my god" at the end of the first verse into the repetition of the line is so fierce it hurts. Along with "Twinkle", "Baby Steps" is my other favorite track. The girls sound so absolutely incredible with the melody and harmonizing toward the end of the song that I get chills every time I listen to it.
Simply put, I cannot recommend "Twinkle" enough. There's a reason it broke so many records when it was released. It's that good.
Packaging: 7/9
Songs: 8/9
Overall: 8/9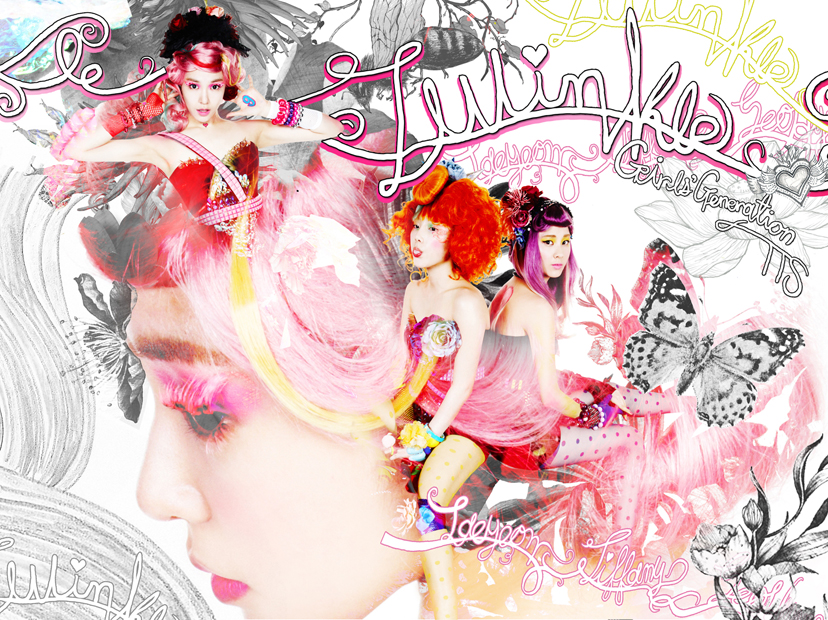 SeraphKY
Let me get this straight before I start. I absolutely love the girls. However, with all those bright colors, funky hair styles, and whatever else you have in there, it is probably one of the most aesthetically displeasing albums I have seen.
Thankfully, that only applies to the appearance of the album. The musical content itself makes this mini-album by Girls' Generation – TTS a worthwhile purchase. With a bit of cute, some retro-funk, a rocking dance, and heartbreaking ballads, this album has a little bit of something for everyone. It doesn't hurt to have all those little extras either, such as the digital photo booklet if you bought it off iTunes or the cute message from the members.
"Twinkle" is the title song of this album, and it's the little bit of retro-funk in the album. It is a fun song that is most likely inspired from Taeyeon and Tiffany's rendition of "Lady Marmalade", which they performed during the Japan Arena Tour and 2nd Asia Tour. It's a good song that showcases everyone's vocals, especially Seohyun, who adds a little spice to the song by belting out all the same notes that Taeyeon and Tiffany do, even though she took a step outside of her comfort zone with this genre.
"Baby Steps" is one of two soft ballads on the album, and if I had to pick, the better of the two as well. Even though it is a ballad, it has a catchy chorus that flows well. The song also contains those long notes that break your heart every time the girls sing them. Though I must admit, I was pleasantly surprised when I first saw this song performed live because it had choreography to go along with the song.
As for the song "OMG", does anyone else feel a little cheated? I mean, we have "Gee" and "Oh!", so why not make a song titled "M" or something to that effect? But apparently SM decided that was too much of a hassle and just skipped right to "OMG". That aside, the song has a nice jazzy feel to it, since there is a continued presence of wind instruments in the background. It's easy to sing along to, even if the only words you know and understand are "oh my gosh" or "oh my god". Three cheers for catchy choruses.
Next up is "Library", the song where everyone was joking about how Seohyun just might sing it solo. However, despite the calming atmosphere that most people will think of when talking about a library, the song was anything but calming. "Library" is a cute song that will have you jiving along unconsciously, but don't think it is just cute, because the vocals in this song are nothing to scoff at. The different blend of voices and parts brings together an amazing harmony.
Out of all the songs on the album "Good-bye, Hello" was probably my least favorite. Not to say it was bad, but in comparison to all the other songs, it felt a little bland.
"Love Sick" is the second ballad on this mini-album. The emphasized beat alongside the soft tunes really make this song stand out. You can almost feel the emotion gushing out of the vocals every time it matches up with the bass. The beginning of the song also makes you feel like you're entering a new world, and then it swells into a crescendo when you finally immerse yourself in the world.
The last song is "Checkmate". It's the end of the line for everyone. You have no more moves left as you are captured by the loud bass and heavy beats. The edgier vocals also leave you a little breathless, which is capped off by a short but intense drum solo. If anything, you'll probably be bobbing your head along to the song when you are blasting it out of your speakers.
Packaging: 4/9
Songs: 8/9
Overall: 7/9
Written by: MoonSoshi9@soshified, SeraphKY@soshified
Have a news item that you think Soshified should know about? E-mail us at tip@soshified.com.
Follow us on Twitter: http://twitter.com/soshified for the latest on Girls' Generation.