Videos
Behind-the-Scenes Footage from Sooyoung's Photoshoot for "High Cut" Released
Behind-the-scenes footage of Sooyoung's photoshoot for the 77th issue of "High Cut" magazine has been released. Sooyoung can be seen in a blonde wig, striking several poses as she puts on various elegant outfits for the shoot.
Arirang TV's "Korea Today" Interviews Girls' Generation – TTS
DJ Young John Kim, a host for Arirang TV's morning program, "Korea Today", recently conducted an interview with Girls' Generation – TTS. In the interview, the girls talked about their song, "Twinkle", and explained its concept with details such as the point to the choreography and the various outfits they wore for the MV.
Super Junior's Heechul Calls Taeyeon on "Sundong Cafe Radio"
Super Junior's Heechul, who is a DJ on "Sundong Cafe Radio", called Taeyeon during the show's broadcast and conducted a short talk with her for the radio's listeners. At the end of their conversation, Taeyeon asked for the radio station to put "Twinkle" on air. Heechul used her statement to make a funny joke by shouting at the person in charge of selecting songs to quickly play "Twinkle".
Others
Hong Kong Newspaper Reports on Hyoyeon Getting First Place on "Dancing with the Stars II"
A Hong Kong newspaper reported on Hyoyeon's recent first place achievement on last week's episode of "Dancing With The Stars II". In addition to summarizing Hyoyeon's success, the article also briefly mentioned Girls' Generation – TTS.
"Rolling Stone" Lists Girls' Generation Among "Ten K-Pop Groups Most Likely to Break In America"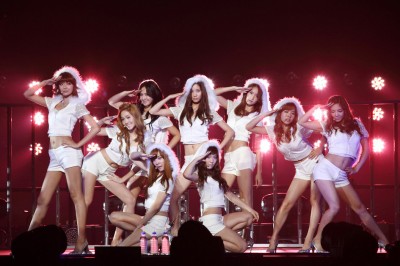 U.S.-based magazine "Rolling Stone" recently listed Girls' Generation in an article as one of ten K-Pop groups with a strong chance of succeeding in America. The article talked about Girls' Generation's endeavors on "Late Show with David Letterman" and "Live! with Kelly". It also mentioned Girls' Generation – TTS's recent ranking on the "Billboard 200" chart with "Twinkle". In the closing statements, the article praised the girls, stating, "Girls' Generation has both a versatility and coherence that define their broad appeal."
Taeyeon, Hyoyeon, Yuri, and Yoona Answer UFO Messages
Recently, a few members of Girls' Generation took some time out of their busy schedules to reply to UFO messages from their fans. In one of the messages to Yuri, a fan expressed sadness at being unable to attend SMTOWN LA. Yuri replied, "My heart is already at the LA concert hall." All of the translated UFO messages can be found in Soshified's Translated Goodies Section.
Nell Talks About Girls' Generation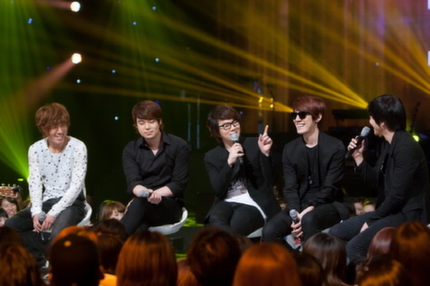 Nell, a South Korean rock band, declared themselves fans of Girls' Generation. The guitarist, Lee Jaekyung, said that he considers "Complete" to be the best pop song in South Korea. Kim Jonghwan, who is in charge of the vocals, added that he has always liked Girls' Generation the most. Also, Jung Jaewon, the drummer, decided that his favorite member is Tiffany.
"MyPaper" Publishes Two Articles on Girls' Generation
On May 22nd, "MyPaper", which is a newspaper based in Singapore, released an article saying that Girls' Generation has the most fans out of all the female K-Pop groups. Then on May 25th, "MyPaper" published a review of Girls' Generation – TTS's mini-album "Twinkle", recommending the songs "Twinkle", "OMG", and "Good-bye, Hello".
Photos
Girls' Generation – TTS Featured on May Cover of "Y.G. Malaysia Magazine"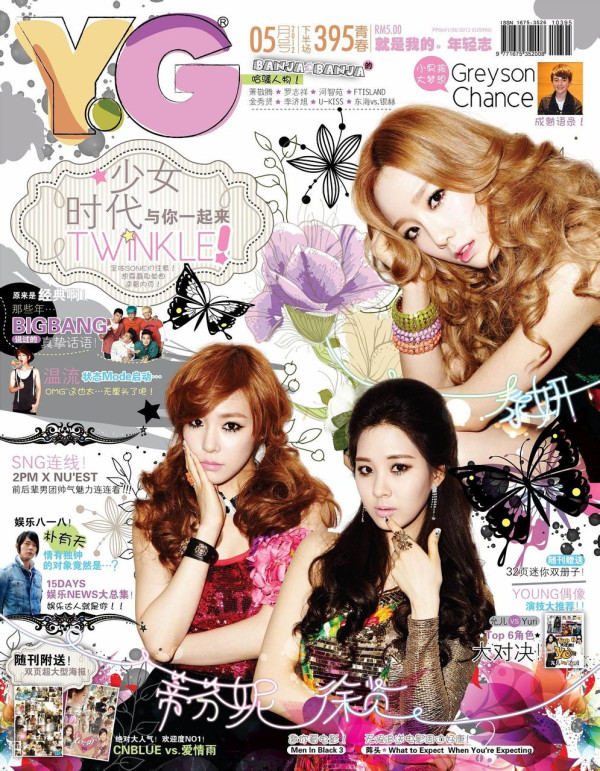 Girls' Generation – TTS was featured on the front cover for the May issue of "Y.G. Malaysia Magazine". The design for the cover boasted a flowery design that closely followed the theme of the "Twinkle" mini-album.
Simon Curtis and Sam Lansky Take Photos with Jessica and Sooyoung
Simon Curtis, a singer and songwriter, managed to get a picture taken with Jessica and Sooyoung while he was backstage during SMTOWN LA. He posted the picture on his Twitter account and said that Jessica is now tied with Sooyoung as his favorite member. Sam Lansky, writer and editor of various pop culture happenings, also managed to catch Jessica and Sooyoung during their break and took individual pictures with them. He then posted the photos in two separate tweets, mentioning that Jessica was part of the "highly flawless k-pop girl group Girls Generation."
SISTAR's Bora Poses with Sunny and Amber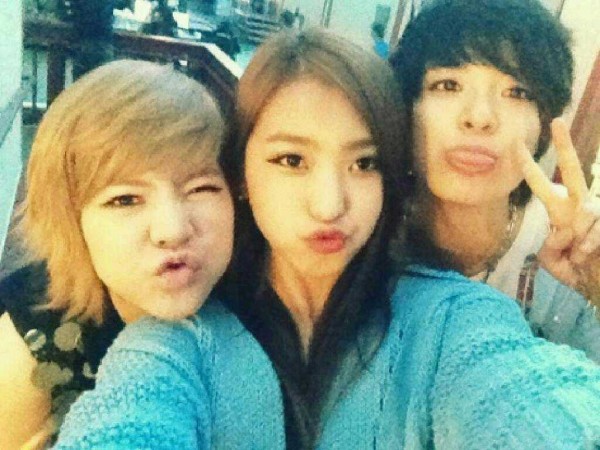 On May 22nd, SISTAR's Bora uploaded a photo on Twitter with her "Invincible Youth 2" castmates Girls' Generation's Sunny and f(x)'s Amber. In the tweet, Bora talked about how she "found" her "family members".
Sunny Gets Photo Taken with Legendary Music Producer Quincy Jones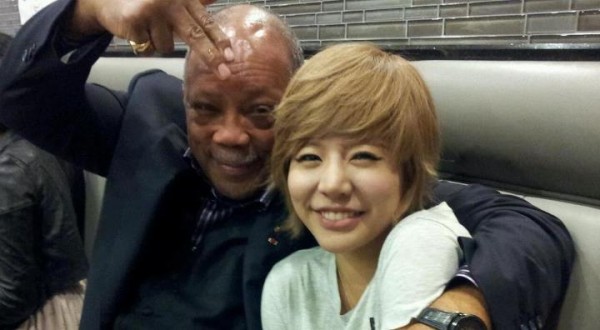 SM Entertainment has recently released a photo showing Sunny with famed music producer Quincy Jones at the post-SMTOWN LA event. Quincy Jones is most known for his work on Michael Jackson's "Thriller"as well as for being a producer of the American TV show "The Fresh Prince of Bel-Air".
"Show Champion" Twitter Account Uploads Picture of Girls' Generation – TTS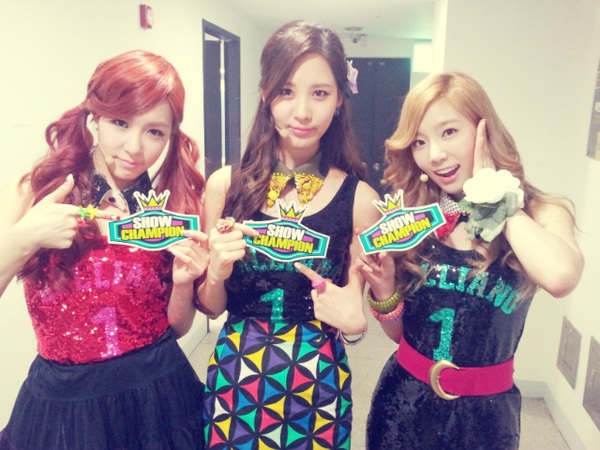 The official Twitter account for MBC's "Show Champion" posted a backstage photo of Girls' Generation – TTS to commemorate the subunit's third win in a row on the program. The tweet mentioned that this was an unprecedented feat in the history of "Show Champion" and that Girls' Generation – TTS unfortunately could not attend due to overseas activities.
Fans of Girls' Generation Nominated in "O Music Awards"
SONEs, fans of Girls' Generation, have been nominated for the "O Music Awards" in the "Fan Army FTW" category. You can vote for Girls' Generation's beloved fandom on the "O Music Awards" website here using your Twitter or Facebook account.
New Sets of Pictures
Fashion King – Yuri1, Yuri2, Yuri3, Yuri4, Yuri5, Yuri6, Yuri7, Yuri8
Innisfree – Yoona
KBS Joy (Girls' Generation – TTS) – Group1, Group2, Group3
Love Rain – Yoona1, Yoona2, Yoona3, Yoona4, Yoona5, Yoona6, Yoona7, Yoona8, Yoona9, Yoona10, Yoona11, Yoona12, Yoona13, Yoona14, Yoona15, Yoona16, Yoona17, Yoona18, Yoona19, Yoona20
Vogue Girl – Jessica1, Jessica2, Jessica3, Tiffany1, Tiffany2, Tiffany3, Group1, Group2
SONE Picture/Video of the Week
At one point during a fansign event for "Twinkle" on May 24th, Taeyeon was startled by a small moth that flew by. The fan she was signing for immediately shooed the bug away, thus earning a grateful smile from Taeyeon as well as her signature. The fan's heroic deed was captured on camera.
If you have any pictures or videos you'd like to submit for SONE Picture/Video of the Week, please feel free to do so by sending them to the Soshified Writing Team at tip@soshified.com or posting at the official SONE Picture/Video of the Week thread
Sources: taengsoshi@twitter.com1, taengsoshi@twitter.com2, simoncurtis@twitter.com, samlansky@twitter.com1, samlansky@twitter.com2, Vogue Girl, sistarsistar@twitter.com, sosiz1, sosiz2, sosiz3, sosiz4, sosiz5, sosiz6, High Cut, Rolling Stone, showchampion1@twitter.com, SMTOWN Facebook, arirangtoday@YouTube.com, Naver, vodkaice9@twitter.com1, vodkaice9@twitter.com2, bestiz, O Music Awards
Written by: Best Served Soup@soshified, NeonCyro@soshified, nicholys@soshified, moonrise31@soshified, SeraphKY@soshified
Edited by: bhost909@soshified
Contributors: minigiglo@soshified, ch0sshi@soshified, residentbenchwarmer@soshified
Have a news item that you think Soshified should know about? Leave us a tip or e-mail us at tip@soshified.com.
Follow us on Twitter: http://twitter.com/soshified for the latest on Girls' Generation.